Eric Platt

|

Dec

. 3, 2012, 9:19 AM

|

354,756

|



Vehicles burn in the street after protestors reacted to bomb blasts which targeted a Shiite Muslim processions in Lahore, Pakistan.
​
As the Greek economy deteriorates further, the country's people have grown despondent over a lack of leadership and failed austerity measures.
But on a list of the most miserable countries in the world, Greece wouldn't even crack the worst 50.

The misery index, a crude economic theory created by Arthur Orkum, sums a country's unemployment and inflation rates to assess conditions on the ground (the higher the number, the worse off a country is).

The reasoning: you can tell a great deal about an economy by a soaring jobless rate and a population that can afford less and less of required goods.

Business Insider
totaled the figures for 197 countries and territories - from Afghanistan to Zimbabwe - to compile the 2012 Misery Index.

Note: Results are based on CIA World Factbook data, which estimates figures for countries and territories that do not have reliable local reporting agencies.

#20: Iran
AP/Vahid Salemi
Misery index score: 37.8%
CPI inflation: 22.5%
Unemployment: 15.3%
Source: CIA Factbook
#19: Afghanistan
White House
Misery index score: 42.7%
CPI inflation: 7.7%
Unemployment: 35.0%
Source: CIA Factbook
#18: Gaza Strip
AP Photo/Hatem Moussa
Misery index score: 45.0%
CPI inflation: 5.0%
Unemployment: 40.0%
Source: CIA Factbook
#17: Bosnia and Herzegovina
Adam Jones
via Flickr
Misery index score: 47.1%
CPI inflation: 3.8%
Unemployment: 43.3%
Source: CIA Factbook
#16: Swaziland
Swaziland landscape
Wikimedia Commons
Misery index score: 48.0%
CPI inflation: 8.0%
Unemployment: 40.0%
Source: CIA Factbook
#15: Marshall Islands
AP Photo/Richard Vogel
Misery index score: 48.9%
CPI inflation: 12.9%
Unemployment: 36.0%
Source: CIA Factbook
#14: Haiti
flickr
www.flickr.com
Misery index score: 49.9%
CPI inflation: 9.3%
Unemployment: 40.6%
Source: CIA Factbook
#13: Kenya
Spencer Platt/Getty Images
Misery index score: 51.0%
CPI inflation: 11.0%
Unemployment: 40.0%
Source: CIA Factbook
#12: Senegal
Misery index score: 51.4%
CPI inflation: 3.4%
Unemployment: 48.0%
Source: CIA Factbook
#11: Lesotho
International Rivers on flickr
Misery index score: 52.2%
CPI inflation: 7.2%
Unemployment: 45.0%
Source: CIA Factbook
#10: Belarus
AP Images
Misery index score: 53.4%
CPI inflation: 52.4%
Unemployment: 1.0%
Source: CIA Factbook

#9: Kosovo
Getty Images
Misery index score: 53.6%
CPI inflation: 8.3%
Unemployment: 45.3%
Source: CIA Factbook
#8: Nepal
Taylor Weidman/The Vanishing Cultures Project
Misery index score: 53.8%
CPI inflation: 7.8%
Unemployment: 46.0%
Source: CIA Factbook
#7: Yemen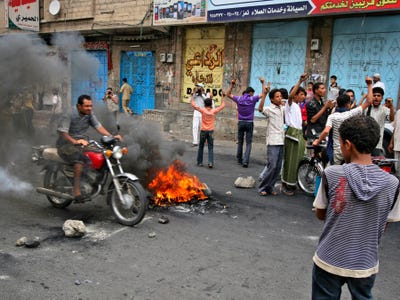 ap
Misery index score: 55.0%
CPI inflation: 20.0%
Unemployment: 35.0%
Source: CIA Factbook
#6: Namibia
wikimedia
commons.wikimedia.org
Misery index score: 56.5%
CPI inflation: 5.3%
Unemployment: 51.2%
Source: CIA Factbook
#5: Djibouti
AP Photo/Amal Ismail
Misery index score: 66.0%
CPI inflation: 7.0%
Unemployment: 59.0%
Source: CIA Factbook
#4 Turkmenistan
rferl.org
Misery index score: 75.0%
CPI inflation: 15.0%
Unemployment: 60.0%
Source: CIA Factbook
#3: Burkina Faso
AP Photo/Brahima Ouedraogo
Misery index score: 80.6%
CPI inflation: 3.6%
Unemployment: 77.0%
Source: CIA Factbook
#2: Liberia
Getty Images
Misery index score: 95.0%
CPI inflation: 10.0%
Unemployment: 85.0%
Source: CIA Factbook
#1: Zimbabwe
AP Images
Misery index score: 100.6%
CPI inflation: 5.6%
Unemployment: 95.0%
Source: CIA Factbook