[h=1]Robert De Niro is filled with emotion as he remembers his gay father in new interview[/h]
Robert De Niro misses his father, an openly gay figurative painter.
Over 20 years since Robert De Niro Senior's death from cancer, his son - a legend in American cinema - has preserved his father's artist studio in Soho, New York.
The now 70-year-old actor talks about the late painter in a new interview, discussing his HBO documentary Remembering The Artist: Robert De Niro, Sr.
Scroll down for video
+5
Remembering: Robert De Niro talks about his father in HBO documentary Remembering The Artist Robert De Niro Sr
'To me, he was always a great artist,' the Godfather icon admitted in a chat with
Out
magazine.
He went on to discuss his father's sexuality: 'Yeah, he probably was [conflicted about being gay], being from that generation, especially from a small town upstate.'
Adding: 'I was not aware, much, of it. I wish we had spoken about it much more. My mother didn't want to talk about things in general, and you're not interested when you're a certain age.'
Robert De Niro remembers gay father in HBO documentary
+5
Regrets: The now 70-year-old actor breaks down in tears as he shares memories of his deceased parent who was openly gay
+5
Lasting bond: The legendary actor has fond memories of his painter father
And while his time with his father was limited, as he lived with his mother, poet and painter Virginia Holton Admiral, he was still very close to him.
'We were not the type of father and son who played baseball together, as you can surmise,' De Niro explained. 'But we had a connection.
'I wasn't with him a lot, because my mother and he were separated and divorced. As I say in the documentary, I looked after him in certain ways.'
+5
Portrait of an artist: Robert Sr. was a figurative painter who died in obscurity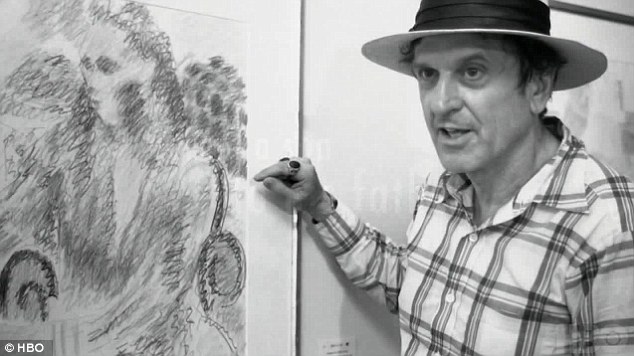 +5
Making an impression: De Niro has preserved his father's art studio in Soho decades after his passing
In the documentary, De Niro shares his own memories of his father's anguish over both his overlooked body of work and his sexuality.
The senior De Niro lived his final days as a starving artist alternating between Paris and New York while his son rocketed to Hollywood fame.
During this time, the Taxi Driver star attempted to help his father, who refused.
Remembering the Artist: Robert De Niro, Sr., which premieres on June 9 on HBO, promises to be a moving portrait of a son attempting to rescue his father's legacy from obscurity.


​