Joined

Nov 14, 2006
Messages

5,320
Likes

2,957
Points

280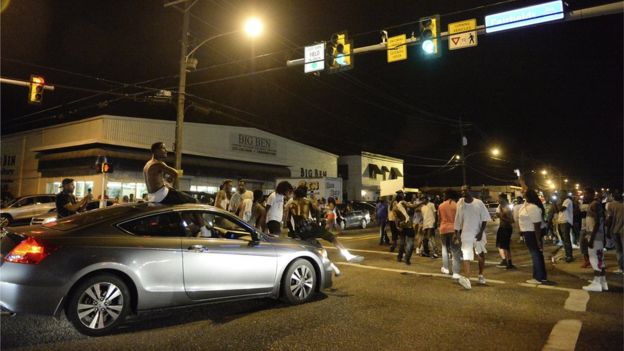 US protests after police shooting of black man in Louisiana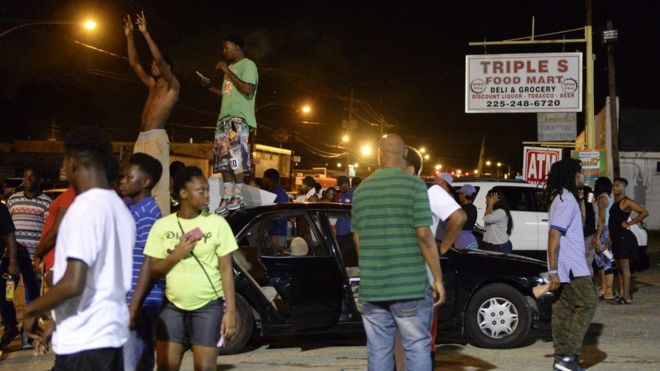 Image copyright AP
Image caption Protests broke out near the scene of the shooting
Protests have taken place in the US state of Louisiana after a video emerged appearing to show two white police officers holding down and shooting dead a black man.
The incident took place in the state capital, Baton Rouge, on Tuesday after reports of a man threatening people with a gun outside a shop.
A post-mortem examination showed the victim, Alton Sterling, 37, died of gunshot wounds to the chest and back.
Protests later blocked nearby roads.
The crowd of about 200 people was moved on by police but organisers say they will reassemble in front of City Hall.
The incident comes amid heightened tension in the US over the deaths of African-American men at the hands of police.
There are more than 1,000 deadly shootings by police in the US each year, and those killed are disproportionately black Americans.
Police spokesman Cpl L'Jean McKneely said the officers had been called in after reports that a man selling CDs outside a convenience store had threatened someone with a gun.
He said that the two officers involved had since been placed on administrative leave, which is standard procedure.
Mr Sterling, a father of five, died at the scene.
Reporter Brittany Weiss from local TV station WBRZ told the BBC's Newsday programme that the video footage, which emerged hours after the shooting, showed the officers having an altercation with the man in a car park.
"The police officers bring this man down to the ground and then you hear more of an altercation," she said.
"Then you hear three gunshots and two other shots that are muffled and then you hear someone say 'he has a gun' during that exchange."
========
Mtu mweusi mwingine ameuawa na polisi...Polisi waliofanya mauaji hayo ni wazungu au watu weupe...Kazi ipo kweli kweli huko Marekani...UBAGUZI WA RANGI bado upo..hakuna cha Haki za binadamu wala nini...