Joined

Mar 24, 2011
Messages

7,144
Likes

175
Points

160
Mndengereko
JF-Expert Member
7,144
175
160
1.CONTROL CENTER AND NOTIFICATION
apple wameweka setting unazozitumia mara kwa mara katikati mbele kabisa mwa screen yako,ili upate,kupata hiyo kitu itabidi uslide kutoka chini(bottom) ya screen yako, na utapata features kama vile za Wi-Fi meter, brightness, Airplane mode, music controls,n.k
2.
SAFARI BROWSER:
hapa appple wameweka unified search navigation bars zitakuwa zinaondoka mpaka utakappokuwa unazihitaji,kama ilivyo kwenye android phones,na ukiswipe from left to right itakupeleka katika previous au back page.lakni pia wameunganisha url field na search kuwa kama ilivyo katika chrome
3.
AIR DROP
hapa mac users wataweza kushare mafile wenyewe kwa wenyewe,na hivi punde itaweza kussuport,i phone 5.ipad mini, na fourth generation i pad,hii itafanya kazi kwa kutengeneza local ad-hoc networks so ukibonyeza share button utaona watu walio karibu yako wanaotumia window 7 na utachangua nani umselect, hii itatumia either bluetooth or wifi network,na kuna option ya kujiweka kama invisible kama hutaki uonekane.
4.MULTITASKING
hapa utakuwa na uwezo wa kuview all opened app na kuchagua ipi uclose ipi ufungue kwa double tap home screen yako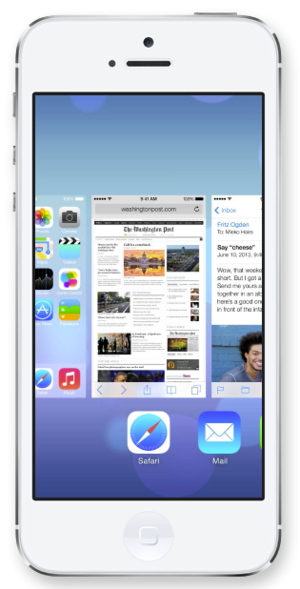 5.AUTO UPDATE
:
app amabazo zipo katika appp store zitakuwa zinajipadate automatically so itasave time ya kila mara mtu kuangalia what update are available lakini kama hupendelei auto update user anaweza akaweka off auto update katika setting,hii ni nzuri kwa watu wenye unlimited internet bundles
6. SIRI MATURE:
apple voice assistant sasa hivi imeboreshwa kidogo kuna sauti ya kiume imeongezwa so inaweza ikakufuatilizia pale unapohitaji,saoundwave animation itakuwa on bottom of your screen as you speak utakuwa unaiona inavyopanda na kushuka na result ya siri itakuja katika full screen sio kama zamani,ukilinganisha na google now,kwa kutoa majibu kwa haraka google bado iko juu.
.AVAILABILITY
:
apple hawajasema tarehe maalum hii kitu lini itaanza kupatikana so kwa watumiaji wa kawaida itabidi tusubiri kidogo kwa sasa only regissterd developer ndio wanaweza wakaipata,
7.UPDATE NYINGINE KWENYE IOS 7 NI KAMA ZIFUATZO
:
Unlock the phone, and icons drift down
Revamped weather app shows dynamic weather animations onscreen; pinch for all-city overview
Night mode for maps
iCloud photo-sharing
iCloud keychain remembers sensitive data
Long MMS support
Swipe from day to day in Calendar
Phone, FaceTime, and Message blocking
View PDF annotations
Activation lock to protect against theft
Support for 60fps video capture
App store volume purchase
Maps bookmark synching
Notification sync
Smart download for TV episodes
Smart mailboxes
Wi-Fi hotspot 2.0
Tweaked mail search
Inclinometer support
AirDrop from activity sheet
Background asset downloads
Per app VPN