Joined

Apr 20, 2012
Messages

4,392
Likes

2,420
Points

280
Hali ya sintofahamu inazidi sambaa nchini Zimbabwe tokea Makamu wa Rais afukuzwe madarakani na Rais Mugabe >>
Zimbabwe: Rais Robert Mugabe amemfuta kazi Makamu wa Rais
Jeshi la nchi hiyo limeanza sogeza vikosi katikati ya mji mkuu Harare hiyo ni baada ya mkuu wa majeshi kutangaza kuchukua hatua endapo chama cha Zanu PF kutashindwa elewana >>
ZIMBABWE: Mkuu wa majeshi atishia jeshi kuingilia endapo mtifuano ndani ya chama tawala hautamalizwa
-----
Habari zaidi..

Hali ya wasiwasi imezidi kutanda. Njia ya kuingia kwenye makambi makubwa ya Jeshi zimefungwa. Vifaru na APC zimeshika njia kuu za kuingia na kutoka Harare.
------------
Update..
Milio mizito imesikika mida hii ya usiku. Chombo cha utangazaji kimetangaza Jeshi limezikishikia studio za ZBC na kuwaondoa wafanyakazi wote. Hata hivyo Balozi wa Zimbabwe SA amekataa kuzungumza chochote.
- Alipo Rais Mugabe na Mkewe bado haijafahamika..
Mji wote wa Harare upo chini ya jeshi mpaka sasa na inavyo onekana ni mapinduzi baridi yanaendelea.
----------
Habari zaidi
..
Jeshi limetoa taarifa kuwa halijaipindua serikali na Rais Mugabe pamoja na familia yake wapo salama, limedai linawalenga wahalifu wanaomzunguka na kuisababishia nchi kuyumba kiuchumi na kijamii. Likimaliza shughuli yake hiyo linategemea nchi itarudi katika hali yake ya kawaida.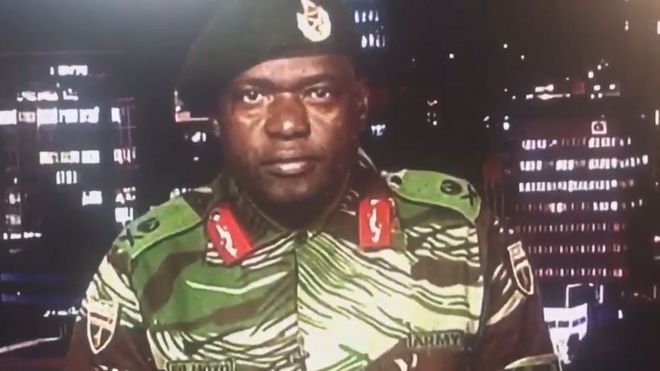 Zimbabwe's military has read out a statement on the country's national broadcaster, ZBC, saying it has taken action to "target criminals".
However, it said this was not "a military takeover of government" and President Robert Mugabe was safe.
Heavy gunfire and artillery were heard in northern suburbs of the capital, Harare, early on Wednesday.
Zimbabwe's envoy to South Africa, Isaac Moyo, earlier dismissed talk of a coup, saying the government was "intact".
The statement read out by the military came hours after soldiers took over the headquarters of ZBC. A man in military fatigues said the army wanted to deal with people who "were committing crimes that are causing social and economic suffering in the country".
"As soon as we have accomplished our mission, we expect that the situation will return to normalcy."
The statement said 93-year-old President Mugabe and his family were safe and their security was guaranteed.
It is not clear who is leading the military action!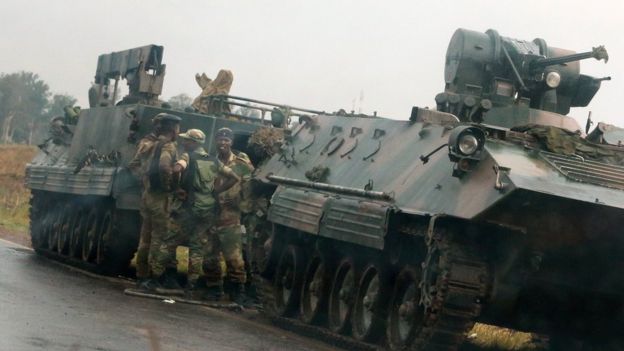 Gen Chiwenga said the army was prepared to act to end purges within Mr Mugabe's Zanu-PF party.
Tensions were raised further on Tuesday when armoured vehicles were seen taking up positions on roads outside Harare, although their purpose was unclear.
Some staff at ZBC were manhandled when soldiers took over their offices in Harare late on Tuesday evening, sources told Reuters.
Workers were told that they "should not worry", a source added, and that soldiers were only there to protect the site.
The BBC's Shingai Nyoka, in Harare, said the sounds of heavy gunfire and artillery had been heard in northern suburbs where a number of government officials, including the president, live.
Gunfire was heard near Mr Mugabe's residence in the suburb of Borrowdale early on Wednesday, a witness told AFP news agency.
Chanzo: BBC
======
UPDATES:
=> Jeshi linamshikilia Waziri wa Fedha Ignatius Chombo, Waziri wa Elimu Prof. Jonathan Moyo na Afisa Mwandamizi ndani ya chama cha ZANU-PF Savior Kasukuwere.
=> Aliyekuwa Makamu wa Rais, Emerson Mnangagwa atangazwa kuwa Rais mpya wa Chama cha ZANU-PF. Mapema leo hatua Uwanja wa Ndege wa Jeshi wa Manyame.
=> Kiongozi wa Umoja wa Vijana wa chama tawala, ZANU-PF, Kudzai Chipanga anashikiliwa na Jeshi la nchi hiyo pamoja na baadhi ya wafanyakazi wa Bunge.
Mbunge wa upinzani nchini Zimbabwe Eddie Cross ameambia BBC kwamba anaamini mke wa Rais Mugabe, Grace, ametorokea Namibia.
Mwanasiasa huyo wa chama cha Movement for Democratic Change (MDC) amesema anafahamu kwamba Grace aliruhusiwa kuondoka nchini humo usiku wa kuamkia leo na jeshi.
Ameongeza kwamba alikuwa hana kwingi kwa kwenda kutafuta hifadhi baada yake kudaiwa kumdhalilisha mwanamitindo Afrika Kusini jambo lililomaanisha kwamba hawezi kuwa salama huko.
Hata hivyo, taarifa hizi hazijathibitishwa na jeshi.
Kwenye taarifa rasmi kwenye runinga ya taifa awali, Meja Jenerali Sibusiso Moyo alihakikishia taifa hilo kwamba rais na familia yake walikuwa salama na usalama wao ulikuwa umehakikishwa.
Taarifa hiyo ilionekana kuashiria kwamba huenda familia ya rais ilikuwa inazuiliwa kwa pamoja nyumbani kwao Harare.
Nick Mangwana, mwakilishi wa chama tawala cha Zanu-PF nchini Uingereza ameambia BBC kwamba mwenyewe pia amepokea taarifa kwamba Grace hayupo tena nchini Zimbabwe.
Lakini Bw Mangwana amesema katika siasa za Zanu-PF, Bi Mugabe ni mtu wa chini sana na hana usemi wowote.
Amesema ana mamlaka tu kwa sababu ya kuwa ni mke wa Rais Mugabe. "Alichukua wadhifa wa juu kuliko ule anaostahiki kuwa nao," amesema.
Bi Mugabe amekuwa akitaka kuwa makamu wa rais, na sasa kwa sababu ameongoka, chama hicho kinaweza kufanya mkutano wake mkuu bila kuingiliwa. Amekiri kwamba si kawaida kwa jeshi kuchukua mamlaka katika nchi inayoongozwa kidemokrasia lakini kwamba hali haijakuwa ya kawaida Zimbabwe.
"Tuna rais wa miaka 93, na hilo si jambo la kawaida, na hatuna sarafu yetu pia," amesema.
Lakini amesema kirasmi Rais Mugabe bado yumo kwenye usukani kwani jeshi halijasitisha utekelezwaji wa katiba na kwamba taifa hilo bado lina serikali ya kiraia.
Amesema Rais Mugabe aliongoza mkutano wa baraza la mawaziri jana jioni kama kawaida.
Chano: BBC
======
TAARIFA MPYA ZAIDI..
ZIMBABWE: Kiongozi wa Baraza la Vijana la ZANU-PF, Kudzanayi Chipanga ameomba radhi kwa kulikosoa Jeshi pamoja na Mkuu wa Majeshi Jenerali Chiwenga.
> Hii inaashiria mabadiliko ya Serikali na utawala nchini humo
Updates
Chama tawala Zanu-PF leo kina mkutano wa dharura na agenda mojawapo ni kumvua Mugabe uwanachama,
Hatua hii itamwondoa Rais Mugabe rasmi madarakani
Ilitarajiwa Mugabe angewaaga wazimbabwe kwenye mahafali ya chuo kikuu kama walivyokubaliana kwenye maongezi ya kuwepo utawala wa muda lakin Rais Mugabe hakufanya hivyo
Hali hiyo ilisababisha wanajeshi wakubali kutoa kibali cha maandamo makubwa ya kumpinga jana yaliyofanyika nchi nzima
Nia ya Jeshi la Zimbabwe walitaka Mugabe aondoke madarakani bila aibu maana kuna mazuri pia ameifanyia nchi yake
Tusubirie mkutano wa leo wa chama chake Zanu~PF
Update
Mkutano mkuu wa Zanu PF umemalizika na azimio la kumvua uwenyekiti na uwanachama mmh Rais Mugabe,
Kwa mantiki hiyo Mugabe siyo Rais tena wa Zimbabwe
Muda si mrefu Rais Mugabe ataongea na taifa hilo
Kaa tayari kujui mwisho wa mapimduzi haya ya kisayansi
Vyanzo......
RAIS Mugabe amejiuzulu nafasi yake ya urais
Hata hivyo ameomba kinga ya kutofunguliwa mashtak nchin Zim
Mali zake zote zitalindwa na serikali zijazo
Update.....
Rais Robart Mugabe amejiuzulu nafasi ya urais wa Zimbabwe baada ya kutumikia nafas hiyo kwa miaka 38
Haya ni mapinduz ya kusasa kuwahi tokea Afrika
Watawala wanacho cha kujifunza