Joined

May 25, 2011
Messages

5,937
Likes

6,692
Points

280

Kurzweil
JF-Expert Member
5,937
6,692
280
Taarifa kutoka maeneo ya kusini mashariki mwa Nigeria, zasema kuwa watu 60 wameuwawa pale paa la jengo moja la kanisa kuporomoka katika mji wa Uyo.
Taarifa zasema kuwa, kuna watu wengi ambao wamekwama ndani ya vifusi vya majengo yaliyoporomoka.Ajali hiyo imetokea wakati mamia ya waumini walipokuwa wakihudhuria sherehe ya kuapishwa kwa muasisi wa kanisa la Reigners Bible, Akan Weeks kama askofu.
Ujenzi wa majengo ya Kanisa hilo ulikuwa bado ukiendelea, huku serikali ikitangaza kuwa itaanzisha uchunguzi kubaini ikiwa utaratibu wa ujenzi mwema ulikiukwa au la.Wakati wa mkasa huo, gavana wa jimbo laAkwa Ibom, Udom Emmanuel, alihudhuria ibada hiyo, kwa pamoja na wanasiasa wa eneo hilo, ambao waliepuka ajali hiyo.

========

A church roof has collapsed in Uyo, south-east Nigeria, killing at least 60 people attending a bishop's ordination.

Some reports put the number much higher, with many people believed to be still trapped under the debris.

Hundreds of people were inside the Reigners Bible Church including Akwa Ibom state governor Udom Emmanuel, who survived the disaster.

The church was still under construction and workers had rushed to complete it for the ordination, witnesses said.

Mr Emmanuel said there would be an investigation into whether safety standards had been compromised.

Pictures from the scene show collapsed metal girders and corrugated iron sheeting.

President Muhammadu Buhari has expressed "deep sorrow" over the incident.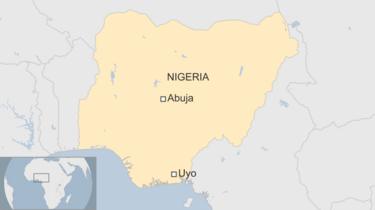 A rescue official quoted by AP news agency said 60 bodies had been recovered but the toll could mount as a crane removes the debris.

An unnamed survivor quoted by Nigeria's Channels TV said: "Normal church service was going on.

"It was about 20 minutes after the governor arrived. Suddenly, the roof fell on worshippers. The governor was quickly rescued. But others were not that lucky."

Building collapses are relatively common in Nigeria, mainly due to the use of sub-standard materials and the violation of building regulations.

In 2014, scores of people were killed when a church hostel belonging to a Nigerian TV evangelist collapsed in the city of Lagos.

Source: BBC