Joined

Aug 10, 2011
Messages

3,938
Likes

162
Points

160
Dotworld
JF-Expert Member
3,938
162
160
Rene Abandi who heads the M23 team to the Kampala talks: "We are still committed to the dialogue, the ceasefire, and to solving the root cause of the conflict."

​

June 12, 2013



M23 rebels return to Kampala for talks with Kabila team

When they left Uganda more than a month ago, representatives of Congo's M23 rebel movement said peace talks with Congo's government were hopeless amid plans by the United Nations to deploy an offensive brigade of peacekeepers in eastern Congo.

On Tuesday, those M23 representatives were back in the Ugandan capital, Kampala, where they sat waiting in a hotel for the Congolese government to send its delegation so that negotiations can resume. They do not even know when the Congolese delegation will be arriving, if at all, or when their Ugandan mediator is likely to set the agenda for the next round of talks.

Representatives of M23 -who arrived in Uganda on Sunday - now appear enthusiastic about achieving a negotiated peace regardless of U.N. plans for eastern Congo, a change of tune that illustrates the success of international military pressure on rebels who not long ago were warning of a return to full-blown war if U.N. peacekeepers mandated to fight were deployed in eastern Congo.

U.N. Secretary-General Ban Ki-moon said during his visit to Central Africa last month that the new U.N. force of some 3,000 troops, to which African countries such as Tanzania and South Africa will contribute, would become operational in "a matter of weeks." It remains unclear precisely when this will happen, but the rebels warn that they will be forced to defend themselves against an offensive U.N. force.

Rene Abandi, who heads the M23 delegation to the peace talks, told The Associated Press that his group would stick it out in Kampala until Kinshasa sends its delegation. "We are still committed to the dialogue, the ceasefire, and to solving the root cause of the conflict," he said. Of the Congolese government delegation he said: "They are not yet here and we don't know if they are coming or not.

"

Ugandan army spokesman Lt. Col. Paddy Ankunda said the Congolese government delegation "is coming this week." Congo's government and M23 have been negotiating in Uganda since December under the banner of a regional bloc called the International Conference on the Great Lakes Region (ICGLR), of which Congo is a member and Uganda's President Yoweri Museveni is the chair. The talks have often been set back by accusations and counter-accusations about who is responsible for rampant violence in Congo's North Kivu province.
Colonel Makenga, center, commander of the M23 rebel movement, tours the border town of Bunagana, Congo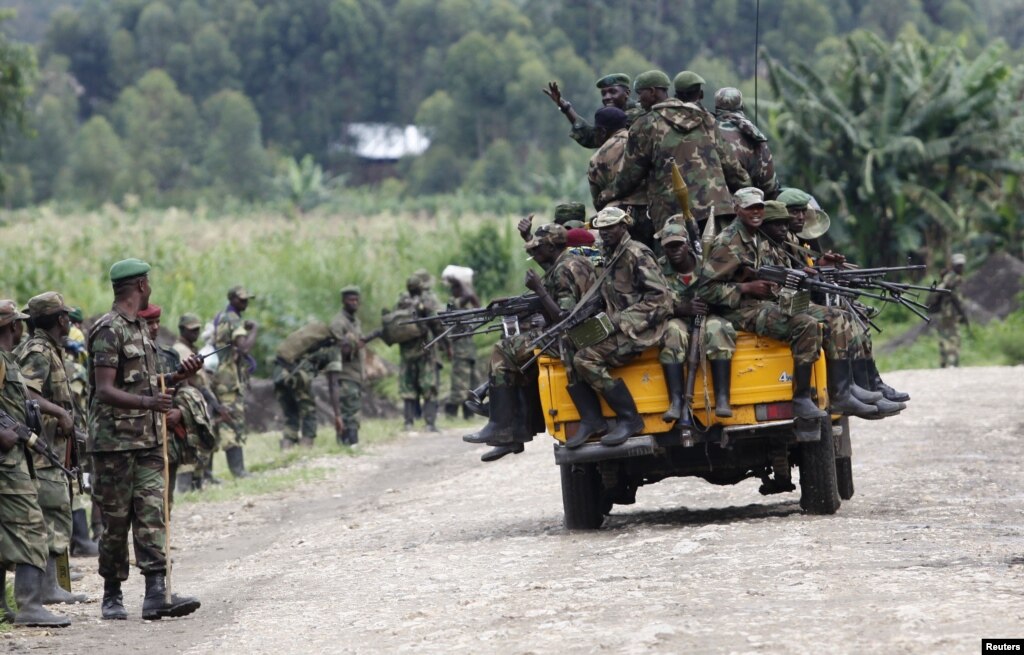 ​
Last year regional leaders under the ICGLR framework asked the Congolese government to listen to the "legitimate grievances" of rebels who now control huge chunks of territory in eastern Congo. The leaders also urged M23 to stop seizing more territory. The peace talks in Kampala suffered their most recent setback after it became clear that the U.N. would beef up its peacekeeping mission in Congo with a new force carrying a more solid mandate. Some analysts say this planned deployment is piling pressure on M23 to focus more on the Kampala talks.
"The M23 is worried about the arrival of the intervention brigade, not so much by their military prowess, which remains relatively unknown, but by the political clout that Tanzania and South Africa, who are providing most of the soldiers, have,"
said Jason Stearns, a Congo expert who runs the Usalama Project, a think tank that researches Congo's armed groups. "Still, they hope that (U.N. envoy) Mary Robinson's insistence on negotiations will make the government more flexible." Stearns said, however, that although there is a renewed push by Robinson and regional leaders for a political solution to the conflict, "we shouldn't expect any quick results. The two sides are still miles apart, and it is difficult to envision what a compromise could look like."

​
Ban said on his Africa trip last month that he hoped regional leaders would try to find solutions to end years of violence in eastern Congo, where M23 is now the most prominent of many rebel groups. M23 is made up of hundreds of Congolese soldiers mostly from the Tutsi ethnic group who deserted the national army last year after accusing the government of failing to honour the terms of a deal signed in March 2009. It is widely believed that the M23 is backed by Rwanda, and a recent report by a U.N. panel of experts said the rebels also were getting some support from Ugandan military officials. Both countries have vigorously denied the allegations.
Last month M23 fighters and the Congolese military exchanged fire for days in fighting that sometimes threatened the eastern provincial capital of Goma, which the rebels briefly took in November before withdrawing under international pressure. Last month's clashes, which displaced tens of thousands of people in parts of Congo's North Kivu province, eased after the rebels announced a ceasefire ahead of Ban's May 23 visit to Goma. That ceasefire has largely held, and Abandi says fighters were ignoring minor provocations from the Congolese military.
Source:
http://www.thelondoneveningpost.com/m23-rebels-return-to-kampala-for-talks-with-kabila-team/