Joined

Oct 31, 2009
Messages

16,625
Likes

8,929
Points

280

Geza Ulole
JF-Expert Member
16,625
8,929
280
By NGO freelance reporter
Confirmed reports in Damasa Town in Mandera county attest of several explosions carried out earlier Saturday at 1 am, 2 km from KDF Damasa camp. The attacks destroyed the much needed scarce infrastructure in Mandera county whereby Safaricom mast, water pipeline and pump were the main targets by the Al Shaababs militias.
The attacks came two days after a MOU for a joint oil and rail projects between Lamu and Addis Ababa was signed by President Uhuru of Kenya and Prime Minister Desalegn
of Ethiopia
. As a reminiscence of events, a month earlier Kenya lost a pipeline deal to Tanzania after a landlocked Uganda chose Tanga over Lamu
route
citing the insecurity situation in the Northern Kenya being their concern for the economic viability of using Lamu port to export her oil to overseas.
With this Mandera attack, the prospects of jointly Kenya Ethiopia rail and pipeline are questionable since both Kenya and Ethiopia have their forces in Somalia fighting the Al Shaababs militants and have been the victims of infrequently reprisal attacks. And if the enterpretation of this attack is to go by, this joint venture is most likely to be the prime target for sabotageous acts for years to come. This is according to the intelligence observation by regional experts
at the Horn of Africa
.
Of recently, both Ethiopia and Kenya have faced the wrath of Al Shaabab terrorists that resulting into loss of 43
Ethiopians
and 183 Kenyan soldiers at their respective military bases in Mogadishu and el-Ade. Ethiopia is embroiled in territorial disputes with Somalia over Ogaden region while Kenya
is facing serious resistance
against her occupation
of Kismayu in somalia having
stationed
her forces there since 2012.
Historically, the marginalized lawless Northern frontier has experienced several transbondary conflicts between the pastrolists communities in sought of pasture. The scarce grazing land around the disputed Ilemi Triangle betwen South Sudan and Kenya, has been the source of many of these tribal infightings and cattle rustling between Ethiopia's Merile tribe and Kenya's Turkana tribe militias. Aside tribal raids, elements of Shifta separatists are cropping up fast with the prsence of Al Shaabab across the larger Northern Kenyan Frontier.
High alert as Shabaab militants destroy Safaricom mast in Mandera
Al-Shabaab militants are reported to have struck Damasa Town and destroyed a Safaricom mast and a water pump.
Saturday June 25 2016
A file photo taken on February 13, 2012 shows members of the Al-Shabaab in Elasha Biyaha, Somalia. AFP FILE PHOTO | MOHAMED ABDIWAHAB
In Summary
Lafey police boss Bossita Omukolongo confirmed to Nation.co.ke the destruction of Safaricom communication mast.
Mr Omukolongo said the communication between his station and the Damasa military camp had been cut off.
"We are using Hormud network that is expensive for communication with those at Damasa for now. Hormud is a Somalia communication network.
Advertisement
By MANASE OTSIALO
More by this Author
Kenyan security officers are on high alert after Al-Shabaab militants on Friday destroyed a communication mast at Damasa in Mandera County.
Lafey police boss Bossita Omukolongo confirmed to Nation.co.ke the destruction of Safaricom communication mast.
Speaking on phone, he said the incident happened at 1am.
"At about 1am explosions were heard from that area only to be told that a communication mast had been destroyed and the only water source also destroyed," he said.
Mr Omukolongo said the communication between his station and the Damasa military camp has been cut off.
"We are using Hormud network that is expensive for communication with those at Damasa for now.
Hormud is a Somalia communication network.
He said the perimeter wall securing the mast was destroyed, as well as water engines and solar panels at the borehole.
HUNDRED MILITANTS
On the reported presence of Al-Shabaab in the area, the police boss said his officers on night duty reported nothing but sources in Damasa have reported seeing more a hundred armed militants.
"We have seen nothing although those in the area are talking of more than a 100 armed men," said Omukolongo.
He said it has been reported that locals on Damasa side of Somali were moving out of the area.
"We are hearing that those on Somali side are vacating the area since yesterday but we are yet to confirm that," he said.
On Friday, intelligence reports indicated that 13 lorries carrying the militants were seen at Damasa town but Mr Omukolongo could not confirm.
"Lorries carrying people can be seen on Somali side but nothing has been reported here," he said.
The intelligence report said the militants were from El-Adde Town and were moving towards Borache (El-Wak, Somalia) and had motorcycles and four Toyota Land Cruisers with them .
It further stated that the entourage was targeting Kenya Defence Forces (KDF) military camp in Damasa, El -Wak camp or the Somalia National Army (SNA) camp in Borache.
"We are unable to communicate to the military camp but all security measures are in place," he said.
A security meeting scheduled to take place in area on Saturday, to be chaired by Mandera County Commissioner Frederick Shisia, has been postponed.
The destroyed mast and the water source are said to be two kilometres from the Damasa KDF camp.
Alert as Shabaab strike in Mandera
KDF communicating using Somalia network after explosions
Winnie Mabel Yesterday 62795
– Communication between a Kenya Defense Force military camp in Mandera and the rest of the country has been cut off
– This is after al-Shabaab detonated a number of bombs destroying communication and water sources in Damasa, Mandera
– Security agents are now using a Somalia communication network to reach them
A series of explosions at Damasa in Mandera county could be heard at 1 am on Friday, June 24.
According to police in the county, intelligence reports said that about 100 al-Shabaab militia were seen on the Somalia side of Damasa, reportedly being transported in 13 lorries at night on the same day.
READ ALSO:
Police arrest six more al-Shabaab militants after attack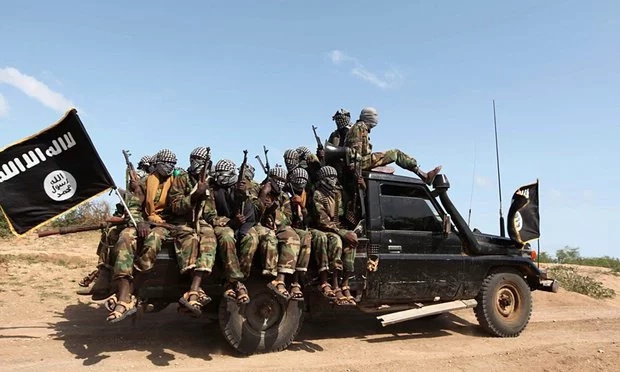 Al-Shabaab militants have launched attacks in Kenya and Somalia.
They were moving using two land cruisers and a number of motorcycles from El-Adde town towards Borache. They were also seen in the area as the explosions were being detonated.
The explosions, believed to have meant for either a Kenya Defense Forces camp in the area of the Somalia National Army, however took out a communication mast two kilometers away from the camps.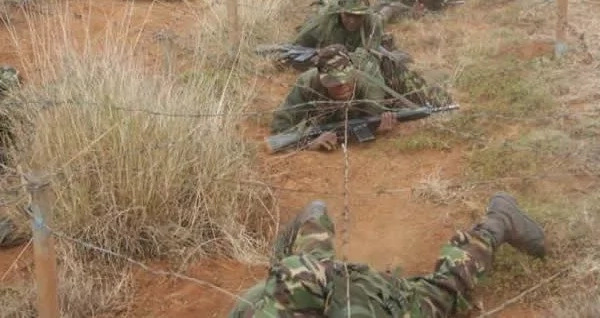 Kenya Defence Forces recruits undertaking Assault course training at the Recruits Training School, Eldoret. Image: MOD
READ ALSO:
The very latest from the Muslim man who shielded non-Muslims from al-Shabaab
The downing of the Safaricom communication mast cut off communication beteen the Kenyan camp and officers who were investigating the explosions.
"We are using Hormud Somalia communication network for communication with those in Damasa now,"
said Lafey police boss Bossita Omukolongo.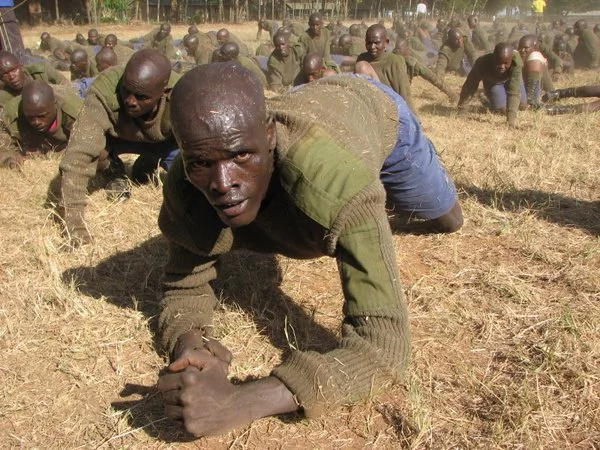 A rare glimpse into the training of recruits at a Kenya Defense Forces camp. Photo: KDF
Aside from the mast, the only source of water in the region was also destroyed.
A security meeting that was scheduled to take place today, Saturday, June 25, 2016, was postponed.
READ ALSO:
US trained Kenya Air Force unit to protect KDF against al-Shabaab
Al-Shabaab has been of late carrying out attacks on Kenyan soil to avenge the death of their commander who was killed in an AMISOM operation in Mogadishu, Somalia.
They have
attacked a police escort which saw five officers killed
and seven others injured.
They have also set up land mines across the region, in which
one killed an ambulance driver and three others
as they were rushing to a hospital in Mandera town.
Al-Shabaab explosions cut off communication between KDF camp and Kenya
kenya:Al-Shabaab fighters destroy Safaricom mast and other properties in Mandera
by
MAREEG
· June 25, 2016
Telephone Mast

Al-Shabaab on Friday night attacked Damasa area in Mandera County where the property of unknown value belonging to Telecommunications service provider Safaricom was destroyed.

The fighters struck a Safaricom communication mast located in Damasa tampering with the transmission in the area.

Lafey police boss Bossita Omukolongo confirming the incident stated that the perimeter wall securing the mast was destroyed, as well as water engines and solar panels at the only borehole in the location.

"At about 1am explosions were heard from that area only to be told that a communication mast had been destroyed and the only water source also destroyed," Mr Omukolongo was quoted by the

Nation in

Kenya.

"We are unable to communicate to the military camp but all security measures are in place," he added.

He noted that they were now using Somalia communication network, Hormud, which was very expensive.

He further mentioned that sources had reported that they saw more than 100 armed militia in the area though officers on night patrol indicated that they did not see anything.

kenya:Al-Shabaab fighters destroy Safaricom mast and other properties in Mandera nomasana, sam999, NairobiWalker, hbuyosh, msemakweli, simplemind, Kimweri, Bulldog, MK254, Kafrican, Ngongo, Ab_Titchaz, mtanganyika mpya, JokaKuu, Ngongo, Askari Kanzu, Dhuks, Yule-Msee, waltham, Mzee, mombasite gabriel, Juakali1980, Boda254, mwaswast, MwendaOmo, Mwanakijiji

,

Iconoclastes

,

oneflash

,

Kambalanick

,

1 Africa

,

saadeque

,

burukenge

,

nyangau mkenya

,

Teen-Upperhill Nairobi

,

kadoda11