Joined

Feb 10, 2016
Messages

57
Likes

12
Points

15
Age

49
The Syrian government has established control over eastern Aleppo, Vitaly Churkin, Russia's ambassador to the United Nations, told the UN Security Council on Tuesday.
"Over the last hour we've received information that the military activities in east Aleppo have stopped," Churkin said, according to a simultaneous translation provided by the United Nations.
"So there's no question about cessation of hostilities, or humanitarian operations. The Syrian government has established control over east Aleppo so now the stage has come for practical humanitarian initiatives."
At the same time, sources inside Aleppo tell CNN a ceasefire and evacuation agreement has been reached in the beleaguered eastern part of the city.
Journalist and resident Karam al-Masri, who is in Aleppo, told CNN Tuesday that residents received cell phone messages from rebel leaders announcing a ceasefire.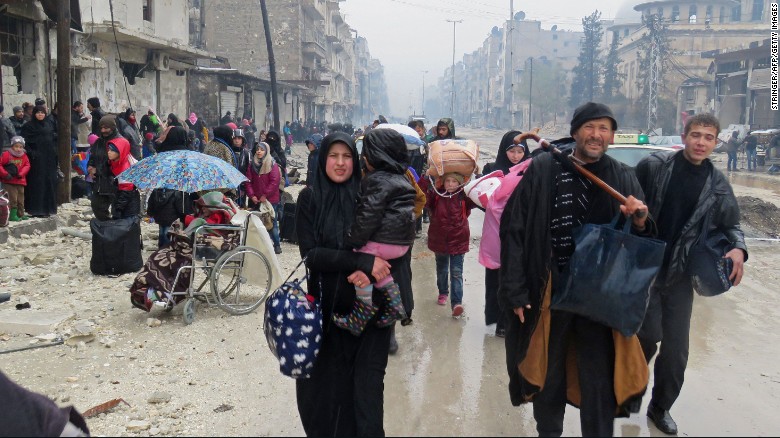 Syrians fleeing the restive Bustan al-Qasr neighbourhood on Tuesday.
Aleppo Media Center posted to its Facebook page on Tuesday that a ceasefire had been announced in Aleppo "in preparation for the evacuation of civilians from besieged areas through safe passages."
The Aleppo ceasefire and evacuation agreement was reached with "Turkish mediation," a commander in the Islamist rebel group Ahrar al-Sham told CNN, adding that civilians will start being evacuated from the eastern area of the city Wednesday morning local time.
An activist in Aleppo told CNN the evacuations will begin at 6 a.m. (11 p.m. Tuesday ET). The first group of civilians to leave will consist of 70 injured people and family members -- a total of 150 people.
Source:
CNN