Feb 11, 2007
124,825
287,849
Kenya's 'national hero'

By Adam Mynott
BBC News, Nairobi

Kenyans give their views on the man who may be the next US president
Eighteen months ago, few Kenyans had even heard of Barack Obama.

He was a little known US senator from Illinois. Those who were aware of his existence lived in western Kenya near to the village of Alego-Kogello, 60km (37 miles) from the town of Kisumu where the Kenyan side of his family live.

Now his meteoric rise to political fame has propelled the name Barack Obama onto the lips of millions of Kenyans.

He has Kenyan blood coursing through his veins and has been adopted as a Kenyan national hero, who just might become the most powerful man in the world.

Barack Obama has never lived in Kenya and he has visited the country just three times.

The Kenyan blood comes from his father, Barack Obama senior, who was born in the remote village of Alego where he herded goats as a child.

Interview by appointment

He set off to the New World in search of a broader education. He was a brilliant economist and returned to Kenya to work as a civil servant.

Obama senior died in a road accident in 1982. So Barack Obama's links with Kenya are not strong, but he is said to speak of the country as his "second home".

His grandmother Sarah Obama still lives in the village where she receives an endless stream of journalists and well-wishers wanting to find out more about the US Democratic super-star.

I was in a queue of three other camera teams when I went to see Sarah Obama. Her family insists on appointments being made.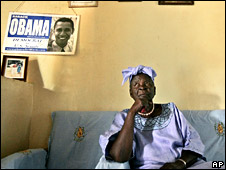 Obama's grandmother is inundated with interview requests

Sarah Obama must have answered the same questions hundreds of times and there will be many more to come in the next six months.

When she's not answering reporters' questions she looks after some cows and a few chickens.

But Sarah Obama has been keeping up with her grandson's progress, and says she is delighted and not surprised by his success.

"He's a good boy, and very clever," she tells me. "I never thought he would become president one day, but Barack's mother kept a close eye on him and made sure he did his studies at school."

Barack Obama is already a Kenyan hero. A school near Alego and at least one bar in Kisumu are named after him.

In the coming weeks, as the November general election gets closer, his fame will grow and grow.

When he joined the race to win the Democratic presidential nomination, hospitals around Kenya reported lots of new-born babies being named Barack.

The Barack Obama phenomenon in Kenya is just starting.

Welcome relief

Kenyans I spoke to in Nairobi said they hoped that Mr Obama's links with Kenya and his status as the first African-American to have a serious shot at the US presidency will improve relations between Africa and the US.



Barack Obama senior gained a scholarship to study in the US

Some, though, were brutally realistic, fearing that despite his political credentials he might face defeat "because the US is not yet ready to elect a black man".

Others said that they were proud that a Kenyan had laid out a political programme which had gained respect throughout the world.

Barack Obama's success as a politician stands in stark contrast to many in Kenyan political life.

His nomination has provided welcome relief and distraction against a Kenyan political backdrop.

More than a thousand people were killed in the violence which followed December's disputed general election. There is also a general contempt for the political elite in the country.

Some I spoke to are so enthusiastic about Barack Obama that they have over-looked the fact that his real political battle, against Republican Senator John McCain, is about to begin.

Those Kenyans have already anointed him President of the United States.