Joined

May 11, 2013
Messages

13,407
Points

2,000
Mtanzania huyo Hussein Masoud Eid alikamatwa akiwa na hayo madawa akiyasafirisha kutokea Dar hadi Mombasa. Hii itakua funzo kwa vijana mnaokubali kutumiwa na vigogo wa Dar es Salaam, maana dogo atanyea debe miaka 30 ilhali konki master wake anapunga upepo wa bahari kwenye fukwe za Dar huku akinywa mvinyo.
------------------------------------------------
A Tanzanian man,
Hussein Masoud Eid
, was on Wednesday sentenced to 30 years in jail and fined Ksh90 million by a Mombasa court.
Should he fail to pay the fine, he faces another five years in jail.
According to
Daily Nation,
Mombasa Senior Resident Magistrate
Edgar Kagoni
announced that the harsh sentence would act as a deterrence to anyone who might be tempted to engage in the business that has negative impacts on Kenyan youth.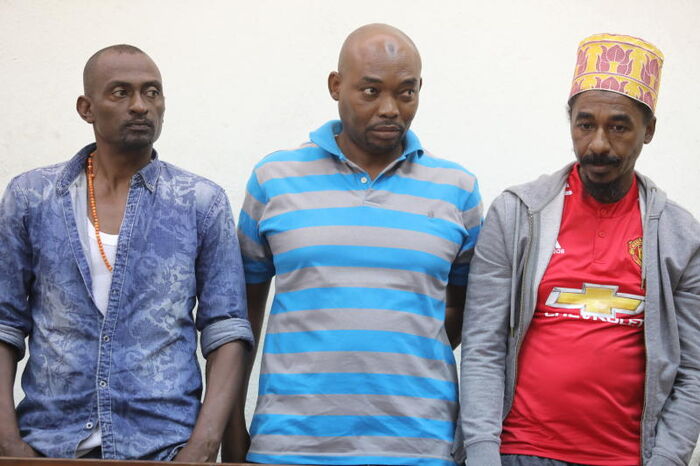 Drugs trafficking suspects from right: Hussein Massoud Eid, Othmani Hamisi Tinje and Mwenda Hamisi Mwenda in a Mombasa Court.
"Since the accused person appears not to have been in this alone because he was on transit, I will impose a sentence not only to punish him for agreeing to be used by the owners of the drugs but also to deter others out there who may be tempted to traffic the narcotic drugs," he added.
Eid was arrested in 2018 with 10.2 kgs of heroin that was by then estimated to have a street value of Ksh30 million.
In a case that commenced in March 2018, Eid, together with two others, were charged after they were arrested at a hotel along Moi Avenue, Mombasa.
The three are said to have travelled from Dar es Salaam to Mombasa aboard a Tahmeed bus destined for Mwembe Tayari.
Eid, Othmani Hamisi and Mwenda Hamisi were charged with trafficking the heroin.
The bus conductor Ali Said alias Ali Baba testified narrating how on arrival at Lunga Lunga in the Kenya-Tanzania border, all the passengers alighted as their passports and luggage was inspected by the border team which included the Kenya Revenue Authority and the Immigration team before they proceeded with their journey to Mombasa.
"According to the travel manifest which was checked at our offices before leaving Dar es Salaam, Hamisi Mwenda was not our passenger that day but the other two accused persons were and had paid Ksh2000 each from Tanzania to Kenya," said Ali while testifying.
Police officers reported that the three found the drugs hidden on the lower part of the luggage covered by a board with clothes put on top to avoid detection.
Othmani Hamisi Tinje and Mwenda Hamisi were acquitted after the court found no adequate evidence linking them to the offence.

A photo of sachets of white powder suspected to be heroin



In a case that commenced in March 2018, Eid, together with two others, were charged after they were arrested at a hotel along Moi Avenue...

www.kenyans.co.ke