Jan 30, 2008
14,631
4,214
Brazilian striker Ronaldo quizzed by Rio police after motel 'row with transvestite prostitutes'
Last updated at 04:10am on 30.04.08
Brazil striker Ronaldo was questioned by police after a run-in with three transvestite prostitutes he took to a motel.
The AC Milan star left an upmarket Rio de Janeiro nightclub with the call girls, according to police, but offered them about £300 each to leave when he discovered they were men.
Two accepted but Ronaldo claims the other, Andre Luis Ribeiro Albertino, demanded £15,000.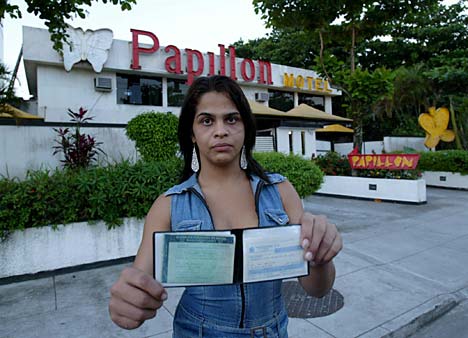 Brazilian transvestite Andre Luis Ribeiro Albertino, known as Andrea Albertino, reportedly holding the car documents of AC Milan player Ronaldo
Transvestite Carla, one of the three prostitutes that went to the hotel with Ronaldo, walks past journalists as he arrives at the Barra da Tijuca police station in Rio
Embarrassment: Milan striker Ronaldo pictured at a press conference to announce his career-threatening knee injury back in February
Andre, who prefers to be called Andrea, says she has a receipt from Ronaldo of the purchase of three transvestites for Sunday night and also claimed the 31-year-old took drugs.​
Ronaldo admitted he knew they were prostitutes when they met on Sunday night, but did not realize they were transvestites until they got to the motel.
She posted a grainy video on YouTube which purports to show Ronaldo and also posed with car documents said to belong to the three-time FIFA World Player of the Year.
Prostitution is not illegal in Brazil.
However, according to reports in Brazil, he told a police officer he feared the episode could end his career.
Police chief Carlos Augusto Nogueira Pinto said: "Ronaldo's testimony is more reliable. From zero to 10, I give his testimony a nine.
"He was very excited and wanted to go out and have fun, without the press knowing.
"Ronaldo said he is not good in the head and that he is going through psychological problems because of his recent surgery.
"But he committed no crime at all, it was immoral at best."
Transvestite Andre Luis Ribeiro Albertino, also known as Andreia Albertine, who works as a prostitute, talks to journalists in Rio
The player is back in Brazil recovering from a career-threatening knee injury.
The transvestites claimed Ronaldo was in Rio's City of God neighbourhood - made famous in a 2002 film - to buy cocaine. However, it is said he did not want to pay for their service and threatened to attack them if they divulged the case to the media.
Ronaldo released a press statement, saying: "In view of recent events and in order to clarify the athlete Ronaldo has never been a user of drugs, had no criminal complaint registered against him and is the victim of an attempted extortion."
http://www.thisislondon.co.uk/sport...+row+with+transvestite+prostitutes/article.do