Joined

Feb 11, 2007
Messages

82,022
Likes

121,389
Points

280
N. Ireland leader to 'take break' following wife's affair
By Peter Wilkinson, CNN
January 11, 2010 10:17 a.m. EST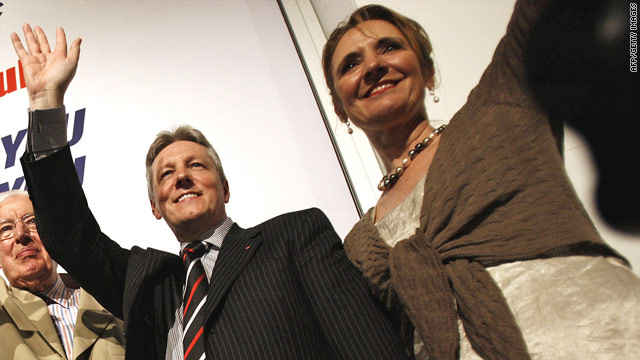 Northern Ireland's First Minister Peter Robinson is fighting for his political future following his wife's affair.
STORY HIGHLIGHTS
Northern Ireland's First Minister Peter Robinson faces pressure to resign over wife's affair with teenager

Iris Robinson has admitted having affair with 19-year-old and securing £50,000 to help him set up cafe

Scandal has been exposed amid tense backdrop in Northern Ireland

Robinson, who leads pro-British DUP, vows to clear his name and denies any knowledge of wife's financial dealings
RELATED TOPICS
(CNN) -- Northern Ireland First Minister Peter Robinson will step down for six weeks in favor of a party colleague following a sex scandal involving his wife, a spokesman for Robinson's Democratic Unionist Party told CNN.
He will be replaced by his DUP colleague Arlene Foster during this time.
Iris Robinson, also a top politician in the semi-autonomous British-run province, last week admitted having an affair with a 19-year-old and securing £50,000 ($80,000) from two businessmen to help him set up a cafe.
The 60 year old, who has admitted attempting suicide and suffering severe depression, is receiving acute psychiatric treatment in Belfast.
Robinson, meanwhile, has vowed to clear his name and denies any knowledge of his wife's irregular financial dealings.
Senior unionist politicians have expressed doubts about his prospects, with elections also due for parliament in London later this year. If he falls, the post of first minister and deputy first minister, held by Martin McGuinness of the republican Sinn Fein party, would have to be filled.
McGuinness can end his partnership with Robinson or refuse to be renominated if the East Belfast MP is toppled.
The scandal has been exposed amid a tense backdrop in
Northern Ireland
. Republicans want more policing powers devolved from London to Belfast as their price for staying in government but the two main parties have failed to agree a deal on this.
"The brutal fact is that we were heading for a dangerous political crisis in Northern Ireland even before the Robinson revelations," Irish political expert Paul Bew wrote in the Times Monday.
"It is now very difficult indeed to see how it might be avoided," added Bew, a member of Britain's House of Lords. "We could now face a very hard landing indeed."
Robinson's predecessor as First Minister said Sunday his position was becoming untenable. David Trimble, who jointly won the Nobel Peace Prize in 1998 for his efforts to bring stability to Northern Ireland, predicted that Robinson would quit in the "next few days."
Fears are also high of an upsurge in violence in Northern Ireland, where three decades of unrest known as The Troubles left at least 3,500 people dead but was largely ended by the 1998 Good Friday Agreement.
Last year, two British soldiers and a policeman were killed in attacks claimed by dissident republicans. And last Friday a Roman Catholic police officer was wounded when a bomb exploded under his car.
Iris Robinson is a controversial figure in her own right. In 2008 she caused a storm by suggesting that homosexuals should seek psychiatric counselling.