Joined

Feb 11, 2007
Messages

80,436
Likes

117,316
Points

280
Mugabe resists pressure to resign as detention pictures emerge
Calls also grow for Zimbabwe's military to lay out its plan two days after it confined 93-year-old president to Harare residence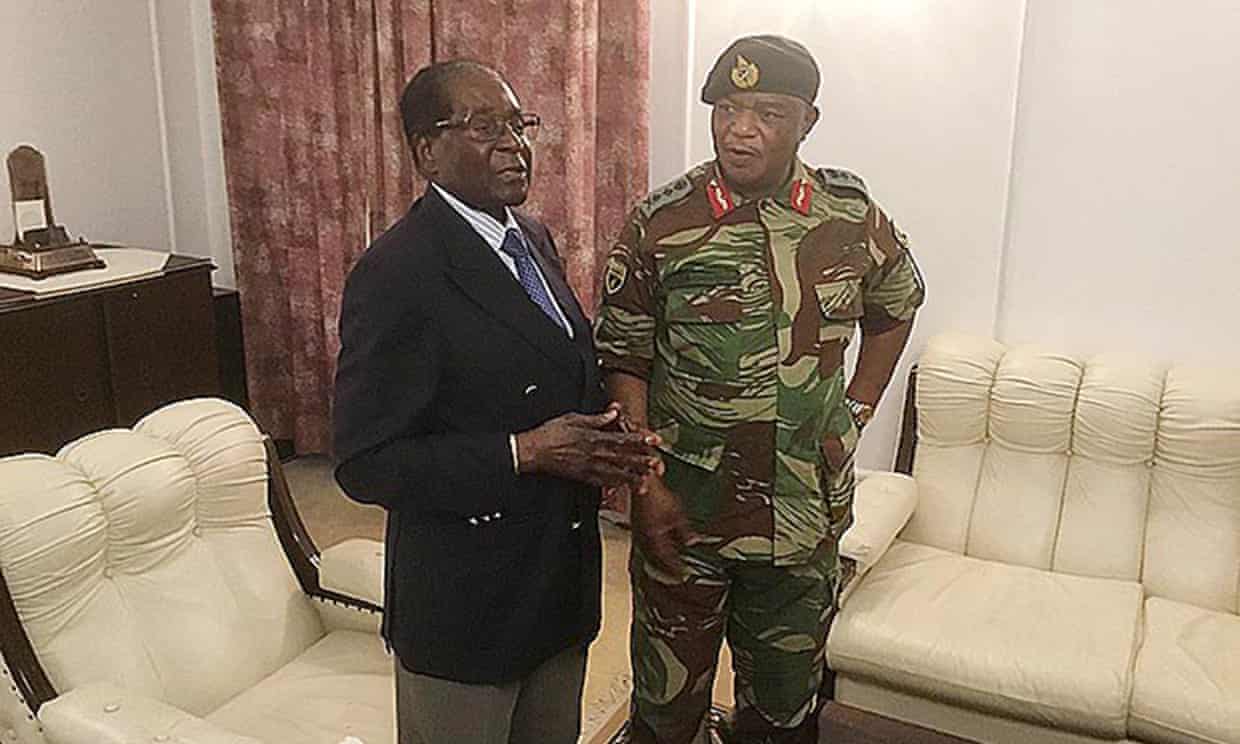 Robert Mugabe talks to General Constantino Chiwenga at State House in Harare on Thursday. Photograph: Zimpapers/Herald
Zimbabwe
Mugabe resists pressure to resign as detention pictures emerge
Calls also grow for Zimbabwe's military to lay out its plan two days after it confined 93-year-old president to Harare residence
Jason Burke and Alex Maher in Harare
Thursday 16 November 2017 18.21 GMT First published on Thursday 16 November 2017 17.21 GMT
Zimbabwe's state-run media have published photos of Robert Mugabe meeting the general who led an army takeover two days ago, as the veteran autocrat resisted pressure to step down on Thursday and the army faced growing calls to outline its plans for a new government.
Mugabe, who has ruled Zimbabwe for 37 years, looked confident and healthy in the images, taken during a meeting at the president's state offices and residence in the capital, Harare, on Thursday afternoon. The defence minister and two South African envoys also appeared in the pictures.
One picture showed Mugabe, 93, and General Constantino Chiwenga smiling as they shook hands. No details of the conversations held during the meeting were released.
Mugabe has been confined by the army to his personal residence in Harare's upscale neighbourhood of Borrowdale since Tuesday night, when troops moved to seize the state TV channel's studios and other important sites.
Sources close to the military said Mugabe had described the takeover as illegal and was resisting pressure to resign.
He is thought to have rejected efforts by a Catholic priest – a long-term friend of his – to facilitate the mediation efforts.
The biggest regional power, South Africa, appears to have backed the army. South African envoys are in Harare to help with negotiations to form a new government and decide the terms of Mugabe's resignation. South Africa called an emergency meeting of the Southern African Development Community regional bloc, which got under way in Botswana.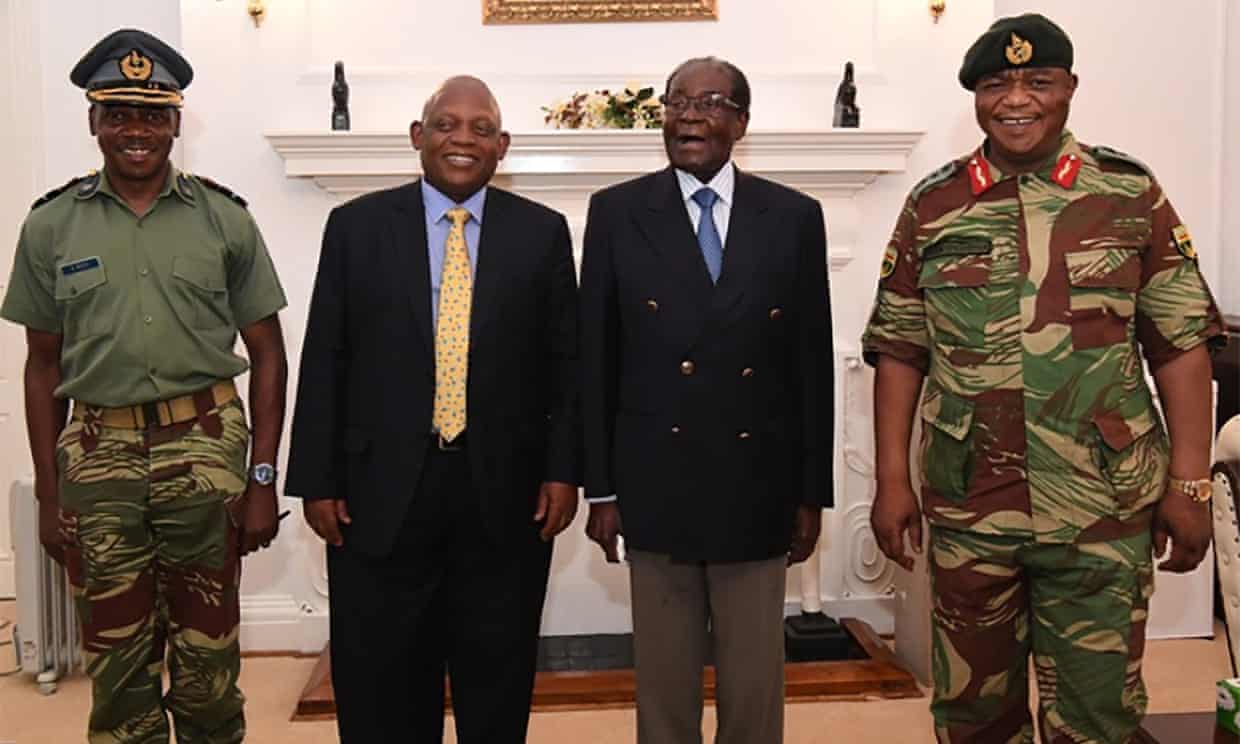 President Robert Mugabe (2R) poses alongside Zimbabwe Defence Forces Commander General Constantino Chiwenga (R) and South African envoys at State House in Harare. Photograph: -/AFP/Getty Images
Though the military move has been cautiously welcomed by many Zimbabweans and the streets were once again quiet on Thursday, there are growing public demands for the senior military officers who led the takeover to lay out their plans.
The army declared on national television in the early hours of Wednesday morning that it had temporarily taken control of the country to "target criminals" around Mugabe, resolving a battle to succeed the president that had pitted his wife, Grace, against the former vice-president Emmerson Mnangagwa.
Mnangagwa was reported to have returned to Zimbabwe on Tuesday evening from South Africa, where he fled last week after being stripped of his office by the president in an apparent attempt to clear Grace Mugabe's path to power.
Play Video
3:35
Robert Mugabe: the end of an era – video profile
Opposition officials told the Guardian they believed Mugabe would resign on Friday, allowing Mnangagwa to be appointed president, with Morgan Tsvangirai, the leader of the opposition Movement for Democratic Change (MDC) party, serving as prime minister in a transitional government that would have a three- to five-year term. The outgoing president and his family would be offered protection in his retirement, though Grace Mugabe is expected to leave Zimbabwe.
Members of the first lady's G40 faction, who were detained during the military takeover, would be prosecuted in accordance with the law, the officials said.
Timeline
Zimbabwe timeline: the week that led to Mugabe's detention
6 November 2017
Mugabe fires vice president
Robert Mugabe fires his powerful vice-president, Emmerson Mnangagwa, clearing the way for his wife, Grace, to succeed him as leader of Zimbabwe.
Grace had accused 75-year-old Mnangagwa, a former intelligence chief, of being the "root cause of factionalism" in the ruling Zanu-PF party.
8 November 2017
Mnangagwa defiant
Mnangagwa reportedly flees to South Africa, but vows to return to Zimbabwe to lead party members.
The party "is not personal property for you and your wife to do as you please," Mnangagwa tells Mugabe in an angry five-page statement.
13 November 2017
Army chief issues warning
Zimbabwe's army chief demands a halt to the purge in Zanu-PF, and warns that the military could intervene.
"We must remind those behind the current treacherous shenanigans that when it comes to matters of protecting our revolution, the military will not hesitate to step in," General Constantino Chiwenga told a media conference attended by about 90 senior army officers.
14 November 2017
Army denies coup
A convoy of tanks is seen moving on the outskirts of the Zimbabwean capital but the military denies a coup. In an overnight declaration on state television, they say Mugabe is safe and they are "only targeting criminals around him".
15 November 2017
Mugabe detained
Military vehicles take control of the streets of Harare in the early hours. South Africa says Mugabe has told its president, Jacob Zuma, by telephone that he is under house arrest but is "fine".
There was no independent confirmation of the opposition claims, which one analyst described as "optimistic", though it is clear negotiations are taking place between multiple political actors.
"The army want him to relinquish power but there are some sticking points," said Knox Chitiyo, an expert in Zimbabwe at the Chatham House thinktank in London. "This is a complete shock to him. He did not see himself leaving office this way."
The fragmented opposition has not publicly condemned the military move, but calls for a swift movement to democracy are growing.
The MDC was founded in 1999 and garnered most of its support among urban, educated and younger voters. It did well in elections in 2000 and 2002 but in 2008 a brutal campaign of intimidation and violence masterminded by Mnangagwa convinced leaders to withdraw from a second-round run-off. Splits and further violence have weakened the party in recent years.
Nelson Chamisa, the deputy head of the MDC, called for "peace, constitutionalism, democratisation, the rule of law and the sanctity of human life". Tendai Biti, an opposition leader and former finance minister, called for a transitional authority to take over.
The MDC said on Thursday that the transition authority should be "made up of competent Zimbabweans whose mandate will be to put in place measures to turn around the economy".
Church groups, lawyers and more than 100 civil society associations published statements calling for respect of the constitution.
Profile
Who is Grace Mugabe and why is she controversial?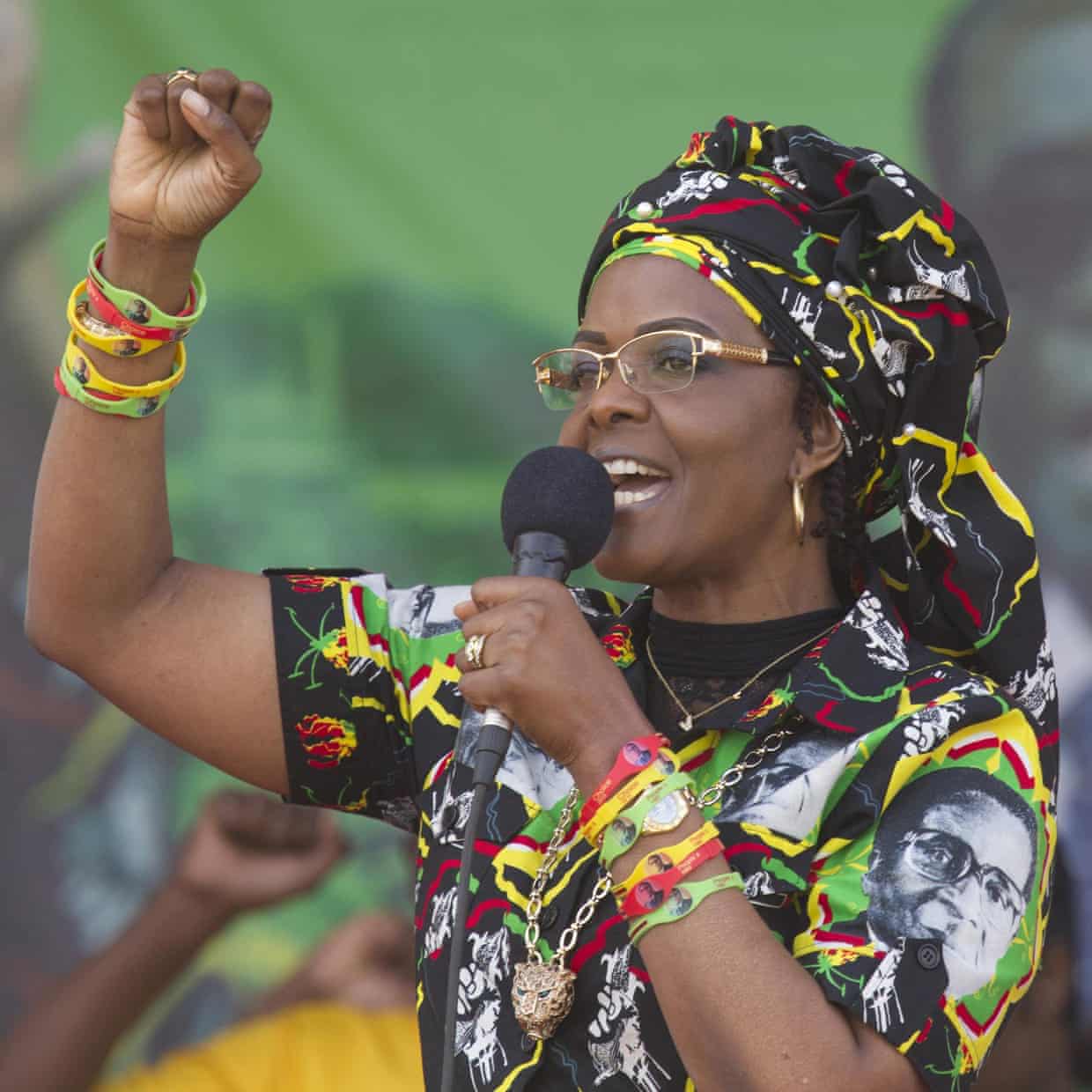 Background
Grace Mugabe is the 52-year-old first lady of Zimbabwe. Born in South Africa, she married Robert Mugabe, 40 years her senior, in 1996. Initially struggling to emerge from the shadows of the president's popular first wife, Sally, who died in 1992, Mugabe appeared by her husband's side for official functions but rarely got involved in politics herself, focusing publicly on her charity work while gaining a reputation for legendary shopping expeditions.
Controversies
In 2009 a British photographer alleged that she punched him repeatedly in the face when he tried to take a picture of her in Hong Kong. She has since been implicated in several incidents outside Zimbabwe: in Singapore, in Malaysia and most recently in South Africa, where she allegedly assaulted a model in August.
Political ambitions
The unveiling of Grace Mugabe as a potential successor to her husband began in 2014, when she became head of the ruling party's women's league and the state propaganda machine began talking up her political acumen. Before the events of 14 November her path to power had received a boost when her main rival, the vice-president , Emmerson Mnangagwa, was fired on 6 November. The feud between Mugabe and Mnangagwa had been bitter – in October she publicly denied poisoning him after he fell ill at a rally in August.
Photograph: Tsvangirayi Mukwazhi/AP
Was this helpful?
Thank you for your feedback.
Priscilla Misihairabwi-Mushinga, an opposition MP, said she was increasingly concerned about the situation. "My optimism at the beginning of this process is beginning to go … I am beginning to worry. The euphoria is giving way to the realisation that nothing is clear. We have not had any message from the military that speaks to what is happening," Misihairabwi-Mushinga said.
There are also growing concerns that the detention of ministers and officials arrested during the coup could be illegal.
"I'm no friend of these people. I detest them. But laws are there to protect all of us," said one human rights activist in Harare, who requested anonymity.
The future of Grace Mugabe is a key element in the ongoing discussions between Robert Mugabe and the military. Singapore and Malaysia, where the Mugabes own property, are potential destinations if she is allowed to travel into exile.
Profile
Who is Emmerson Mnangagwa?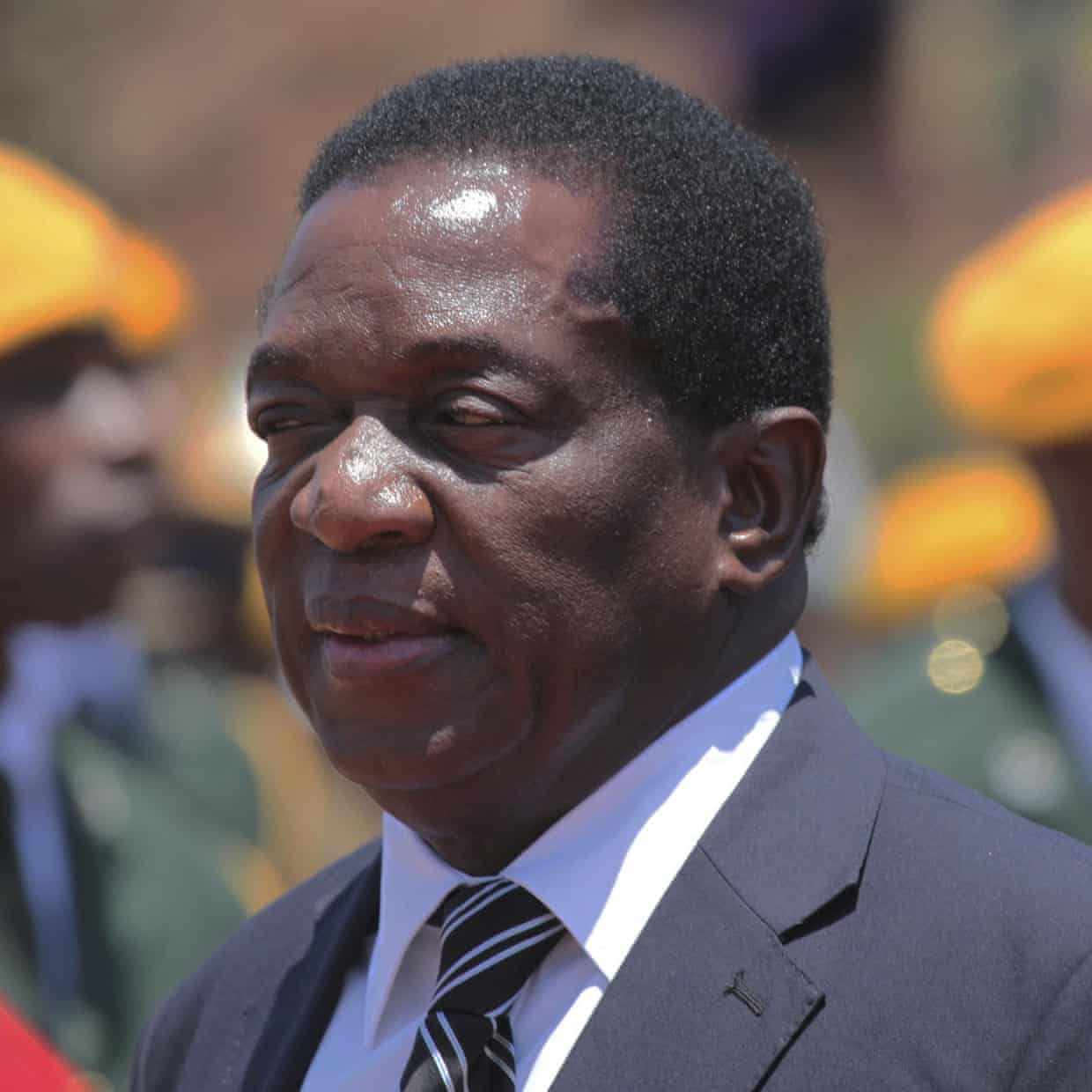 Emmerson Mnangagwa was Zimbabwe's powerful vice-president until 6 November, when he was fired by Robert Mugabe.
The 75-year-old former intelligence chief had been locked in a battle with the first lady, Grace Mugabe, to succeed her husband as president. In October she publicly denied poisoning him after he fell ill at a rally in August.
After his sacking, which was seen as an attempt to clear Grace Mugabe's path to power, Mnangagwa fled to South Africa. He reportedly returned on 14 November as the military prepared to take over the country, and is firm favourite to become Zimbabwe's next leader.
He has strong support within the security establishment and among veterans of Zimbabwe's 1970s guerrilla war, when he earned the nickname "the crocodile".
Despite allegations about his role in atrocities in the 1980s, much of the international community has long seen him as being the most likely figure in Zimbabwe to guarantee a stable transition and implement economic reforms.
It has emerged that one motive for the military may have been knowledge of a plan orchestrated by Grace Mugabe and her supporters to have up to 40 senior officers and officials seen as backing Mnangagwa removed from their posts this week.
During his rule, Robert Mugabe ensured the continuing loyalty of the military by offering privileges and lucrative business opportunities to top soldiers. The transfer of these to the first lady and her faction would have been a bitter blow. One opposition official said negotiations had been ongoing for several months with "certain people within the army".
Zimbabwe faces severe economic problems. It is struggling to pay for imports due to a shortage of dollars, which has also caused acute cash shortages. Restoring some measure of economic health will be a priority of any incoming administration.