Joined

May 25, 2011
Messages

5,629
Likes

6,195
Points

280

Kurzweil
JF-Expert Member
5,629
6,195
280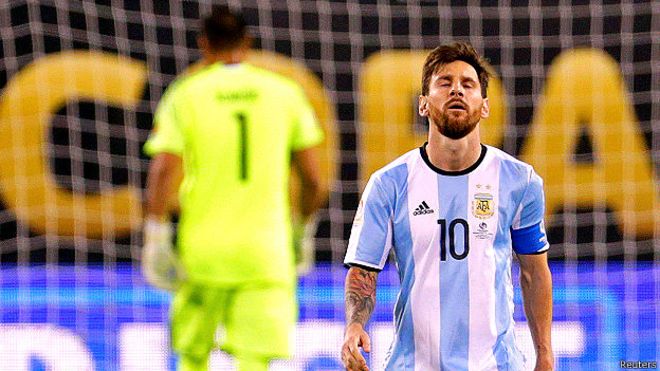 Messi ajiuzulu baada ya kukosa penalt
Mshambulizi huyo wa Argentina na Barcelona Lionel Messi amestaafu kutoka soka ya kimataifa.
Mchezaji huyo bora zaidi duniani alitangaza hatua hiyo baada ya kukosa penalti iliyoiwezesha Chile kuilaza Argentina katika fainali ya mchuano wa Copa America.
"Kwangu mimi ,soka ya kimataifa ama hata kuichezea Argentina sitaweza tena. ''Nimefanya kila niwezalo.''
''Kwa kweli inaniumiza kuwa sijawahi kutwaa kombe lolote la kimataifa'' alisema mshambulizi huyo mwenye umri wa mia 29.
Mshambulizi huyo ameisaidia mabingwa wa ligi kuu ya Uhispania Barcelona, kutwaa mataji 8 na mataji manne ya ubingwa wa bara ulaya.
Hata hivyo kimataifa Messi amewahi kushinda taji moja tu lile la nishani ya dhahabu ya Olimipiki ya mwaka wa 2008 Olympic.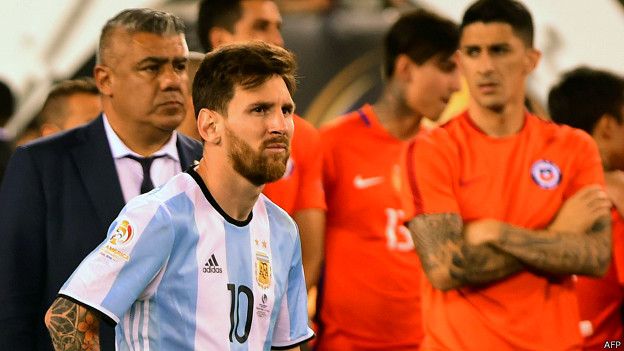 Argentina imeshindwa katika fainali tatu za kimataifa.
Argentina walilazwa moja kwa nunge na Ujerumani katika kombe la dunia la mwaka wa 2014 huko Brazil.
Timu hiyo aidha imeshindwa na Chile mara mbili katika fainali za mchuano wa Copa America kupitia kwa mikwaju ya penalti.
Messi vilevile alikuwa katika kikosi kilichoshindwa na Brazil katika mchuano huo wa mwaka wa 2007 wa Copa America .
Argentina walitoka sare ya 0-0 baada ya muda wa kawaida na ule wa ziada.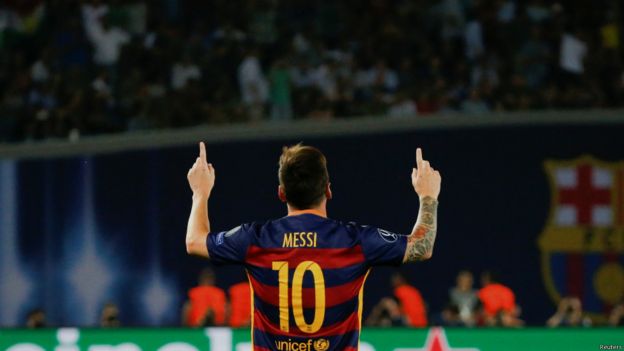 Akiwa Uhispania Messi ametikisa wavu mara 453 kati ya mechi 531 alizoshiriki.
Hata hivyo Chile waliibuka videdea kwa mabao 4-2 kupitia mikwaju ya penalti.
Messi alipoteza mkwaju wa kwanza.
Akiwa Uhispania Messi ametikisa wavu mara 453 kati ya mechi 531 alizoshiriki.
Aidha Messi ndiye anayeshikilia rekodi ya mfungaji bora wa La Liga akiwa na mabao 312.
========================
Argentina and Barcelona forward Lionel Messi, 29, announced his retirement from international football after missing a penalty in the final of the Copa America against Chile.
"For me the national team is over. I've done all I can, it hurts not to be a champion," Messi said.
With Barcelona, Messi has won eight La Liga titles and four Champions Leagues.
But his only major international honour is 2008 Olympic gold, with Argentina now having lost three major finals in three years.
Argentina were beaten 1-0 in the World Cup Final
by Germany
before two Copa America final defeats by Chile on penalties. He was also on the losing side against Brazil in the 2007 Copa America final.
After Sunday's match finished 0-0 in 120 minutes, Chile won 4-2 on penalties.
Messi's penalty miss was Argentina's first attempt in the shootout and it ballooned over the bar after Sergio Romero had denied Chile's Arturo Vidal.
Lucas Biglia also missed from 12 yards, with Chilean substitute Francisco Silva scoring the decisive spot-kick in the final in East Rutherford, New Jersey.