Mars Landing - Pictures
Historic pictures sent from Mars
A Nasa spacecraft has sent back the first historic pictures of an unexplored region of Mars. The Mars Phoenix lander touched down in the far north of the Red Planet, after a 680 million-km (423 million-mile) journey from Earth. The probe is equipped with a robotic arm to dig for water-ice thought to be buried beneath the surface. It will begin examining the site for evidence of the building blocks of life in the next few days.

A signal confirming the lander had reached the surface was received at 2353 GMT on 25 May (1953 EDT; 0053 BST on 26 May). Engineers and scientists at Nasa's Jet Propulsion Laboratory in California clapped and cheered when the landing signal came through. "Phoenix has landed - welcome to the northern plain of Mars," a flight controller announced.​
Mars landing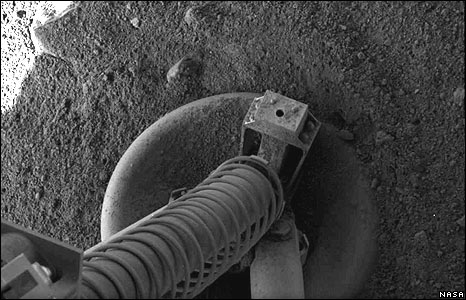 One small step - images from the unmanned Phoenix space probe
were sent back to Earth after its successful landing on Mars.
Nasa staff had to wait about two hours after the landing
for the images which allowed engineers to check for signs of damage.
They also showed the rocky landscape of the northern
arctic plain where the probe will carry out its work.
Correspondents say patterns are similar
to what can be found in Earth's permafrost regions.
A signal confirming the Phoenix lander had reached
the surface of Mars was received at 2353 GMT on 25 May.
The Phoenix team reacted with cheers and hugs,
although project staff say there will be
many more moments of drama.
​
Mtakumbuka biggle two ilipotea na kutokutoa taarifa zozote about four or so many years back. Kudos kwa NASA wamewafunga goli Europeans.
Last edited by a moderator: