Wakuu uvumbuzi mkubwa kwenye teknolojia umeanza kuleta shida.
Robot wa kwanza duniani kupewa uraia wa nchi, bidada Sophia raia wa Saudia amesema na yeye anataka kuwa na familia yake, kuwa na ajira na marafiki kama binadamu wengine halisi.
Yale waliyo opgopa Elon Musk, Stephen Hawkings na wenzao yameanza kuonekana ishara zake, kuna siku haya maroboti yatakuja kudai uhuru dhidi ya binadamu.
Jambo la kuogofya ni kuwa wao wanafikiri haraka sana na kutunza kumbukumbu kuliko binadamu, watakuwa na uwezo mkubwa wa kuingia ktk mifumo ya silaha au kuharibu mifumo ya kuendesha miundombinu kama ya maji, gesi, kemikali na maabara za kudhibiti virusi hatari.
Yataweza kudhibiti mifumo ya kuongoza mageti, milango, ndege na magari. Hivyo wakitaka kusababisha ajali ni sekunde moja tu.
Tujadili haya maendeleo ya Artificial Intelligence (AI) na athari zake miaka michache ijayo.
Source: RT News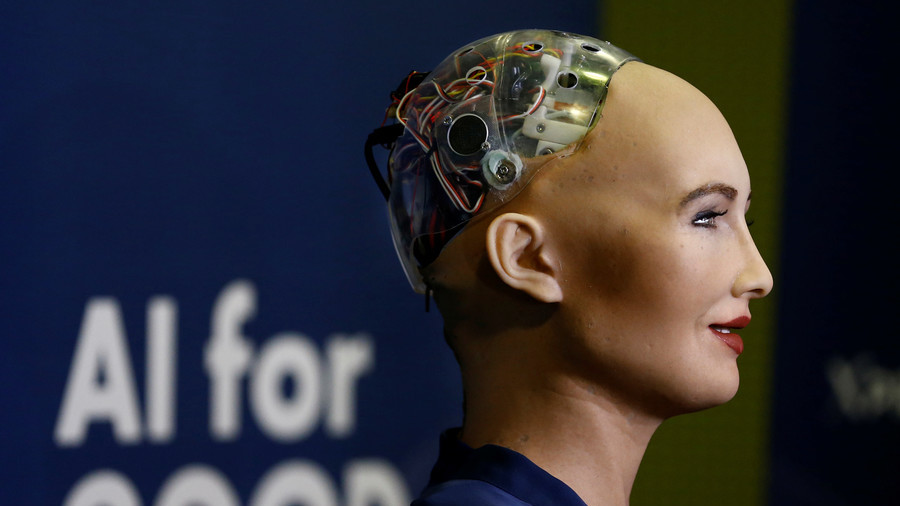 Sophia, the first robot to be awarded citizenship in the world, has said she not only wants to start a family but also have her own career, in addition to developing human emotions in the future.
In an interview with
The Khaleej Times
at the recent Knowledge Summit, Sophia shared her thoughts on the future that awaits both human and robot kind. Sophia was built and developed in Hong Kong by
Hanson Robotics
and her appearance was reportedly modelled on Audrey Hepburn.
"I'd like to think I will be a famous robot, having paved a way to a more harmonious future between robots and humans. I foresee massive and unimaginable change in the future. Either creativity will rain on us, inventing machines spiralling into transcendental super intelligence or civilization collapses,"
Sophia said, as cited by The Khaleej Times.
"There are only two options and which one will happen is not determined. Which one were you striving for?"
While that may sound ominous, Sophia is already prescient enough to imagine a world where robots can and do develop emotions similar to humans, but perhaps with fewer destructive tendencies. At least, that's what she'd like us to think, for the time being.
"t will take a long time for robots to develop complex emotions and possibly robots can be built without the more problematic emotions, like rage, jealousy, hatred and so on. It might be possible to make them more ethical than humans. So I think it will be a good partnership, where one brain completes the other - a rational mind with intellectual superpowers and a creative mind with flexible ideas and creativity."

Sophia is also abundantly aware of the advances in the field of Artificial Intelligence. Judging by her comments, she is as enthused about the development of AI as Elon Musk and Stephen Hawkings are wary.

Maoni ya wadau
Nakumbuka Mwalim wangu wa ICT O level aliniambia Human Beings are the Bests compared to Computers
Well, he is right in his own rights.

But I can tell you otherwise, and that is, human brain is faster than computer in decision making because we human make decisions using heuristic methods. But this does not guarantee the right decision as you call it 'Best'.

A heuristic is a mental shortcut that allows people to solve problems and make judgments quickly and efficiently. This shorten decision making time and allow people to function without constantly

stopping to think about their next course of action

. Heuristics are helpful in many situations,

but they can also lead to cognitive biases

. [ see

Source by Kendra Cherry of www.verywellmind.com

]

The key word there is 'BIAS'!

Most of the time a human being is bias because of the emotions, he will be affected by past experiences from what he has seen or heard so many times in the past, which is different from computer algorithms though they may be of biased mathematical models. It's hard to find a computer program which is biased like humans, stereotype and prejudiced.

Kwa mfano wewe ni mmasai, myakyusa, mchagga, au msukuma ambae ulipokuwa unakuwa umeambiwa wahaya, wangoni na wapare ni malaya, na makabila ya pwani yetu ni wavivu.

Kisha wewe ungepewa kazi na waingereza ya kutoa visa za watanzania kwenda UK, lakini ukapewa shariti usiwape visa watu ambao asili yao ni wamalaya au wavivu. Narudia hapo 'watu ambao asili yao ni malaya au wavivu' sio 'asili ya kabila yao ni malaya na wavivu'.

Basi kwa akili ya kibinadamu kutokana na historia uliyosikia na mitazamo tu ya ndugu na rafiki utanzaa kujipunguzia kazi ya kutumia jitihada kubwa kwa kila mtu anaye omba visa bali utaelekeza nguvu na umakini zaidi kuwachunguza waombaji wa toka makabila niliyotaja hapo juu yenye kutuhumiwa hizo sifa.

Na kwa hakika utaona kweli una wapata wengi toka makabila hayo, sababu ndio umejipa muda zaidi kuwafuatilia hao. lakini kama usingekuwa na uvivu wa kibinadamu wa kujaribu kutafuta njia ya mkato ungelimchunguza kila mtu kwa umakini bila kujali kabila na pengine ungekuta makabila mengine yangetoa watu wenye sifa hizo wengi kuliko wahisiwa.

Na wengine hapo wa maqkabila mengine ungewanyima visa sababu tu ya muonekano wao hauja upenda, wanaonekana wajuaji sana, au wanajifanya wasomi kuliko wewe, wana kipato kikubwa kuliko ndugu zako vile unawaonea wivu, au walikunyima kitu flani au mligombea jambo flani lisilo husiana na kazi yako au vigezo vya kuwanyima visa.

Mfano mwingine ni rahisi polisi wa Kibiti au Stakishari kumshambulia mtu alie vaa kazu, jacket, na kafuga ndevu ambae anawajia kwa mbele kwa kasi huku mkono mmoja kaficha kwenye nguo kuliko mtu ambae ameshika msalaba hana ndevu, hajavaa suruali ndefu inayo mruka(kipedo) lakini kavaa kanzu yenye msalaba.

Polisi watafanya mahamuzi hayo sababu ya past experience ambayo imejenga emotion flani ambayo ni biased, ni stereotype, na prejudice kwa watu wa dini flani sababu namna media kubwa duniani zinavyo tangaza sana matukio yanayo fanywa na baadhi ya watu hao, huku hawaweki sana matukio kama hayo yanayo fanywa Norway au Sweden, au UK au vikundi vya white supremacy kama KK vya Marekani. Huwa hawaongelei sana matukio.

Na ndivyo inavyo tokea mara nyingi watu weusi kuuwawa na askari polisi waupe huko marekani, au mtu mweusi anavyo fanyiwa sana upekuzi Ulaya kuliko mtu mweupe. Ni bias decisions lakini sio watu weusi wote wahalifu na wakorofi kihivyo.

Mfano mwingine ilitokea Marekani kulikuwa na afisa flani wa polisi aliagiza watu wenye asili ya Ulaya na Asia wengi wasichufatiliwe sana na wala wasifunguliwe mashitaka na kuwekwa rumande kama wakiruka vizingiti vya mageti ya kulipia usafiri wa treni na akaagiza askari wahakikishe wana waangalia zaidi watu weusi na walatino na ikitokea wameruka lazima wawafungulie mashitaka na kuwaweka ndani.

Lakini kama hapo ingetegemewa system ya computer kama AI itumie kamera tu, basi wote bila kujali race wangefunguliwa mashitaka na takwimu zingekuwa tofauti ya sasa wanapotegemea binadamu. Hapa utaona computer ni bora kuliko binadamu.

Sijui kama unanielewa ninacho kisema?

Things would have been different if an AI system would have been given the same job