NOTE: Your input is atmost importance. Lets change our minds and support Tanzania and Magufuli despite his good deeds also he is a human being just like us and that means he is not perfect. But he is perfect by us perfecting and supporting him regardless.
First of all, let me admit that this question hits me where it hurts. Sometimes the truth hurts. This one hit "hard and heavy" big time from all corners. It is a series of dilemmas I have been trying to figure out.
Why is Africa rich, yet poor?
Why are Africans brilliant and smart, yet, their policies are dumb, especially from the African Union?
Why are their most educated and skilled workforce leaving their countries to enrich the already developed countries?
Why doctors, engineers, scientists, and business men and women leaving?
What is wrong and how can we fix it?
It should be for every African who cares about Africa and her people. I will not just complain about issues, I will propose some solutions from an African perspective.
"
Africa is not poor, it is poorly managed
".
Ellen Johnson-Sirleaf.
Our resources enrich the rest of the world, but Africa. Without our resources, forget about electronics (computers, cell-phones, etc), without Ghana and Ivory Coast, forget about chocolates, without DRC, Botswana, and South Africa, forget about fancy marriage rings, and jewerly or anything else. This list is endless.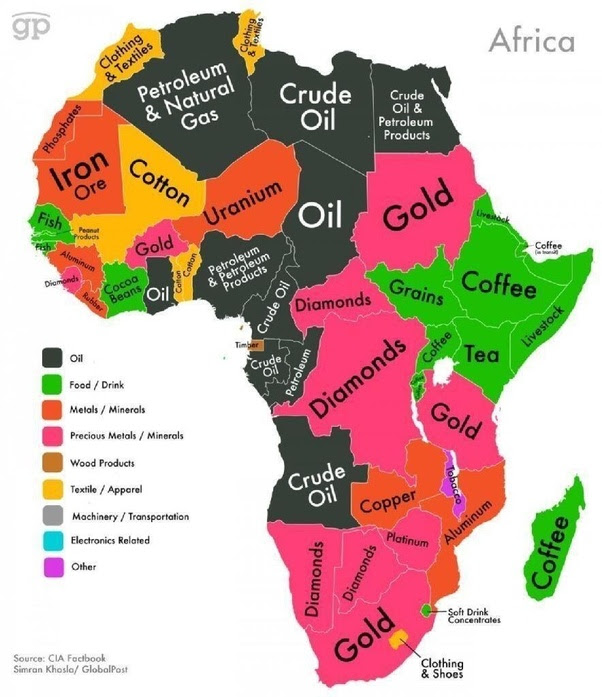 "Africa is poor" they said! by Patrick Crosset on Africa is Back
"
Africa does not need aid"
. Most of her resources are stolen every year for over 120 years now. From the invasion of Africa in the end of 20th century, to colonization, and today with neo-colonization. Different forms each time, but same results. See below how much money we lose each year. A net loss of $41 billion dollars in 2017. The loss keeps growing every year. We don't need your aid. We don't need your "peanuts".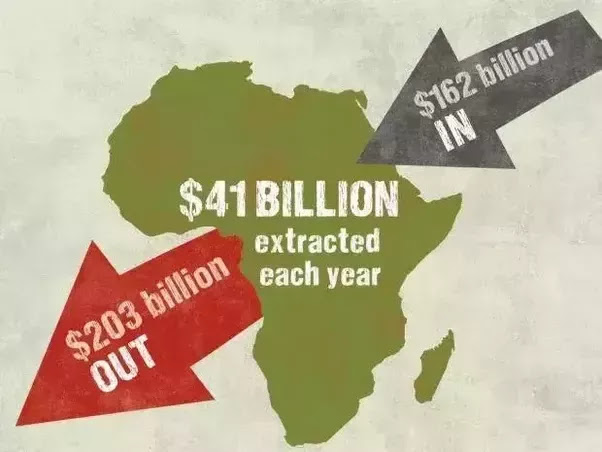 Source:
The 2017 Honest Accounts Report by Global Justice Now.
The Africa they never show you.
There is another Africa that the media never wants to you to see. The positive Africa that is prosperous, progressive and just as developed as the West. Sadly, the NGO industry machine and the western countries never want you to see this side.
It is not the narrative that they want to push out, sadly. To make you " donate", they have to show you that Africa is "helpless", that you are the only " savior" they got. NGOs take your money in forms of donations and taxes.
We Africans don't need your Pity and Sympathy. Keep your Money! by Didier Champion on Africa is Home
Image source:
Dreamstime
.
From an African perspective, Aid leads to dehumanization, low-self esteem, dependency culture, cycle of poverty and pitiful mentality. Would you want to be a beggar for life? How would that make you feel? Think about how this affects African from generations to generations.
It is a no-brainer to me that they keep pushing " aid" to people who don't need it. Your donations end up in their pockets anyway. They enrich themselves with it.
Charities in Africa. How does Aid hurts Africans. by Didier Champion on Africa is Home
There is no doubt in my mind that some of you will be " shell-shocked" with some photos below. "
Africa they never show you".
Six of the top 10 Fastest Growing Economies in 2018 are African. by Didier Champion on Africa is Home
Dar-es-Salaam, Tanzania
( East-Africa)
Abidjan, Cote d'Ivoire
; One of my favorite cities in West-Africa.
Kigali, Rwanda
( my homecountry).
Photo Credit:
Rwanda the Heart of Africa
Accra, Ghana. I worked here for three years.
Image source:
Accra, the capital city of Ghana
The young African millionnaires in business, changing the narratives, making lots of $$ along the way and making a big impact in the lives of many Africans. This is the group I want to be part of someday. Right now, I do "passive investing" with some of them.
You will find them in East-Africa, Central Africa, Southern-Africa, North and West-Africa. The ROI (returns) in Africa when you invest directly into small and medium businesses is the best I have ever seen anywhere in the world.
Didier Champion's answer to How do you get rich in Africa?
They are the real changing the status quo and have benefitted from booming economies around the continent. Today, I see no other place that is easier to become a millionnaire while young than Africa; starting with nothing.
If you know of any, let me know.
Now, let me get back to your question. I personally don't agree that " Africa is poor". I hate this perspective. I have met many talented Africans around the world. As a continent, we just need to get our shit together and use the resources we have to create strong economic blocs for ourselves.
Stop exporting our raw materials. Instead, transform them in our own countries and export them when they are finished products.
Imagine if;
Ivory Coast did that with their Cocoa in the chocolate industry.
Nigeria did that with their oil and gas industry.
DRC did that with their natural resources.
South Africa, Botswana, Equatorial Guinea, and many other countries. [instert any African country] see 1st graph for more from each country.
Our resources enrich the rest of the world, but us Africans. The whole world benefits from our resources. African people remain the biggest losers of all time in the history of mankind. This is why we lag behind. This is why we remain "poor". If you were to pick one thing that keep Africa "poor", this is it. Look nowhere else. Period.
Why is Africa lagging behind?
Let's be honest. African issues are our own issues. Africans should NOT expect Europeans, Americans, or the Chinese to solve their problems. African problems can only be solved by Africans only. To think otherwise, you have to be "crazy" and " dumb" on steroids.
Africa need to phase out Aid to be politically and economically independent. by Didier Champion on Africa is Back
There are a lot of reasons why Africa has stayed behind; some are obvious and others are not. Some you can blame them on the invaders and neo-colonizers. ( Europeans and the West). But Africans are to blame for the most part. You can put blame on slavery, colonization all you want, but when it comes down to it, Africans are to blame for neo-colonization after the independence mouvement in the 60's.
Yes, the Europeans shitted on us big time with colonization. But, after colonization, they reinvented the wheels with " aid" and neo-colonialism. Africans allowed them to stick around and accepted their " inferior" position at the back of the bus. I blame colonization on Europeans, but anything after colonization is the African faults and mistakes.
Accepting that they were inferior and that their colonial master was their "savior" all of the sudden. The Europeans have not cared about Africans. They will never and should not care.

They supposedly came to Africa to " civilise" but really it was all about their own self-interests. They have not been " Mother Theresa" and they will never be. They don't need to be.
After colonization, they got snicky and said we will stick around and be your "savior". You are an inferior race, who cannot do anything on your own. Let's us help you. With " aid", they still control majority of Africa countries ( especially, France, the UK and the US, who had to play " catch up" as he missed out on colonization).
From unfair trade practices, controlling the monetary and fiscal policies, they can do whatever they want. African leaders don't answer to their people. They answer to West Europeans (EU, France, UK, Germany, the US, Netherlands, etc) and North America ( US and Canada).
All of the above are the African problems and not the neo-colonizers. African people have no opinion about what goes on in their own countries. Their opinions barely matter. Their " dumb" leaders and representatives are happy to show up in meetings in Paris, London, Berlin, Quebec, and other places.
During these meetings, conferences, summits, and what nots.
The West already have their own expectations and clear goals of what they want to achieve. More control and power in Africa.
On the other hand, African leaders are told what their expectations are and what they should do, how they should do it, when to do it, etc. Do you see this level of control? I see it everyday.

What kind of interests do you think a slave owner have in mind for his former slaves?
What kind of respect and dignity do they have for them? The same ones a "former colonizer" have for his "former colonies". This is not hard to understand, but our leaders don't seem to get it. Mindboggling.
They always seem to use " colonization" as their excuse card. Other countries were colonized too. South Korea, Singapore, Taiwan, Thailand, the list goes on.
What did they do and how did they do it? Loving their countries and caring for their people.
It was not through aid. They did it through relying on themselves. Trading and doing business with one another, inovation, education, and many other sectors.
Educating their children.
Today, Africans still use books written by Europeans. Our real history was erased and rewritten by our slave owners. In schools, we still learn that Africa was " discovered", that our rivers and mountains were discovered by some " European" explorers.
Haha!
How do you discover people who settled in their lands for generations?
I don't fucking know. It is upsetting.
In our history books, our ancestos are called " indigenous" people. Our heroes who founded our kingdoms, unbreakable empires of their era, fought Europeans with spears and fleshes when they initially came in with guns and bullets.
They were fearless, courageous, and were willing to die for their dignity. Our leaders today and just a bunch of punk and wussies. They cannot even speak their minds. I call them "dumb", but really it is political greed, and fear for their positions. The moment they speak up, they will be shut down by the masters. So, many keep their mouth shut like a baby who can't for themselves.
They only speak at African Union, but elsewhere they are meeting with the G-8 and G-20 countries, they are happy to shake hands and take their place in the " back seat" of the bus. It pains me to see it every year. It brings me lots of shame to see that kind of humiliation. " Hate" is not a strong word enough to use in this case.
By the time, an African child grows up, because of our education system, he does not see greatness of his country at all. Since kindergarten, we are taught that anything white/European is better. Thanks to Europeanized education system, we are taught every day that Africans are inferior.
In middle school, I spent years learning about the 1789 French revolution, WW I and WW II, European leaders ( Adolf Hitler, Napoleon Bonaparte, etc). However, I never learned anything about
The Butcher of Congo: King Leopold II of Belgium.
Rwanda is a neighbor to DRC. Even Congolese children never learned about the "Congo Free State by King Leopold II". How do you explain that? The motherfucker and son of bitch who killed millions of Congolese with his "charity organization" he created to exploit the resources of Republic Democratic of Congo for years. He killed, tortured and murdered men, women and children for years.
He used the " charity card" and Christian missionaries to exploit all the resources. Upon his death, he was the richest man in the world. His net worth is estimated to have been between $500 million to a $1 billion ( in 1910 US dollars). Multiple research give different number estimates. His wealth was donated to the Belgian government of course. He is a hero in Belgium. He is got museums, buildings and streets named after him. This is why Africa is "poor".
Our resources enrich everybody else. Ask Africans today about Christianity and charity organizations today. They will tell you that both of these are the main problems plaguing our continent today.
Image source:
Congolese posing with the severed hands of those failed to make the daily rubber sap quota ( Digital Journal, 1904).
Women and Children were not exempt.
"The commanding officer ordered us to cut off the heads of the men and hang them on the village palisades, also their sexual members, and to hang the women and the children on the palisade in the form of a cross."​
The Butcher of Congo: King Leopold II of Belgium.
How come I never read any book from some of our own authors such as
Chinua Achebe and other amazing African authors.
I was busy with European authors and other nonsense that had nothing to do with Africa. You see how it's messed up, right?
This is the biggest problem for me.
Education in Africa and how we educate our children
. Those who don't know their history are bound to repeat it. They have no idea of where they have been and where they are going. This is why you see mistakes made in the 50's are still made today. No changes and nobody has learned. This is what needs to be changed, otherwise, we are kidding ourselves.
This is why Africa lags behind.
We used to be great, but colonization came and fucked up everything. Since then, we have never been the same. Credit to the Europeans.
Our Empires were known to be the great traders and innovators of their time. Look up the history of Empire of Mali in West-Africa, history of our fighters such as Shaka Zulu in South Africa, The Carthage Empire in Northern Africa, the Egyptian Empire in Egypt and elsewhere.
Think about it, to this day, nobody can replicate the Pyramids from Egypt. The accuracy, the attention to details, the math, science and innovation that went through building those marvellous pieces of Architecture, how come we never built on those foundations to build and re-invest ourselves after colonization? instead all we got out was tribalism, identity politics, corruption, divisionism, and so many other nonsense.
It is a shame and a disgrace.
We used to be some of the great traders in the world, but today, we are only known as the biggest beggars and dependent people in the history of mankind. It is a shame and disgrace.
There is too many reasons why we have remained poor and still lags behind today. I cannot cover all of them all in one post. But,
Africa is Home
, I cover most of it and what need to be done. I share my opinions as the " hard cold truths". Some do hurt me too, but we have to be frank about our issues as Africans.
It is the only way we can progress as one people. Look ourselves in the eyes and say: "M
an, we have really fucked up. We are to blame ourselves. Our issues are our problems, and no one else."
Only then, we can start to move ahead in the right direction.
We have wasted more than 50 years. My hope is that we start changing and not waste another 30–50 years. In 30 years, I want to look at my children and tell them (
with a straight face
) that the "new Africa" they see, I played a small part in changing the status quo.
I don't want them to go study in the West ( like I did). By the time they go to university, I want them to pick any university in Africa and go study there. I want them to be born in Africa, study and work in Africa, and live in a peaceful-progressive Africa. Period.
Within my small ways and capacity, I will "fight like hell" starting with my home-country, Rwanda. Hopefully, my fellow Africans strive to do the same in their home countries.
So many speeches and quotes from many leaders across the continent already, we need to start translating those "verbal promises" into "action". Otherwise, we are just kidding ourselves and bullshitting. I will leave you with one quote from one of the few doers I admire and respect today.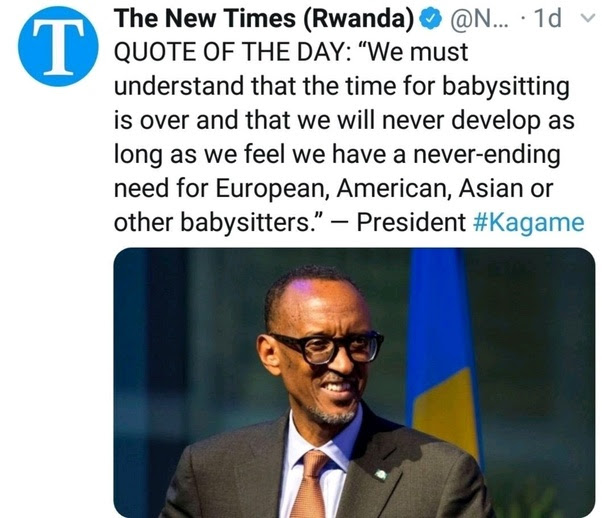 "We must understand that the time for babysitting is over and that we will never develop as we feel we have a never-ending need for Europeans, Americans, Asians, or other babysitters."
President of Rwanda, Paul Kagame.
This quore summarizes my whole post and main answer to your question.
As long as Africa is still dependent on Europe, America or Asia with "aid" and not trade, we will keep lagging way behind. Nobody has developed through the "mercy" of others. Why should Africa be different? We know what works and need to do it. Period.
Free market capitalism, trade, inovation, business and entrepreneurship.
Home | African Union
Thank you
God bless Africa.
References
Africa is Home
( My blog on Quora, how to end the cyle of poverty in Africa and take Africa to great levels of economic successs).
Africa need to phase out Aid to be politically and economically independent. by Didier Champion on Africa is Back
Charities in Africa. How does Aid hurts Africans. by Didier Champion on Africa is Home
Myths and Stereotypes about Africans and their lives: Africa is Rich and Beautiful. by Didier Champion on Africa is Home
Africans are still tied in the colonial chains of their masters in Africa Today. by Didier Champion on Africa is Home
What does Africa need to be free and independent? by Didier Champion on Africa is Home
https://www.quora.com/If-civilisati...-remains-poor-and-far-behind-the-development#
https://www.quora.com/If-civilisati...-remains-poor-and-far-behind-the-development#
https://www.quora.com/If-civilisati...-remains-poor-and-far-behind-the-development#
https://www.quora.com/If-civilisati...-remains-poor-and-far-behind-the-development#
https://www.google.com/