May 11, 2013
22,050
2,000
Afrika pazuri...
Equity Group closed last year as Kenya's most profitable lender and has maintained this run in the first quarter of this year with a 64 percent growth in net profit to Sh8.7 billion.
The Business Daily spoke to its CEO James Mwangi about the place of subsidiaries in growth, the changing phase of the business in Covid-19 environment and the emerging opportunities.
THE STAKE OF SUBSIDIARIES IN EQUITY GROUP BUSINESS HAS BEEN RISING. WHERE DO YOU SEE IT IN THE NEXT THREE YEARS?
Kenyan unit's return on assets reached four percent in 16 years. Uganda has taken 14 and Rwanda 12.
It means we are a learning organisation and we quickly deploy lessons into the business. So in DRC, we are likely to reach this in the next three years.
WHAT IS THE PLACE OF DRC BUSINESS IN EQUITY GROUP?
In DRC, we seem to have really touched a juggler pipe that will change this group forever.
DRC business will fundamentally change Equity Group. DRC at the moment contributes 27 percent of the group balance sheet and is growing at about 60 percent annually and may overtake Kenya between the third and fifth year.
Even in profitability, DRC will start rivalling Kenya and rise above on profits and balance sheet size eventually.
DRC has quickly made us a market leader in financial services both in balance sheet and profitability as well as customer base.
Given the momentum of growth in DRC, the possibility of standing out and becoming more attractive is so near. Equity should now be trading at the same rate as Capitec Bank of South Africa.
YOU MENTIONED THAT 49 PERCENT OF YOUR BALANCE SHEET IS IN DOLLARS. WHAT DOES THIS MEAN TO YOU?
The biggest opportunity is the internal funding of cross-border transactions. The ability to deploy the resources within the group has been made very easy and flexible with this dollar balance sheet.
We have seen huge opportunity in the [Africa] Continental Free Trade Area and the pace at which regional businesses are doing cross-border transactions.
The entire DRC balance sheet is in dollars and the ability to deploy these resources within the group will be very flexible.
EQUITY GROUP BORROWING HAS RISEN BY 63 PERCENT TO SH89.6 BILLION. WHAT IS THE THINKING BEHIND THIS?
The objective of the borrowing is purely to avoid a mismatch of short-term deposits with long-term lending. Deploying short-term deposits on long-term projects would mismatch risks.
The interest rates of the borrowings we have made are much lower and the translation risks are also low because we borrow mostly in dollars.
YOU HAVE CREATED THE POSITION OF GROUP CREDIT OFFICER. WHAT IS THE THINKING BEHIND IT?
We have decided to strengthen our credit management by putting up the group credit function and creating a chief credit officer position.
The chief credit officer role is to lead credit underwriting and credit administration within the group, to intensify credit monitoring and where necessary credit collection.
DO YOU SEE GREEN SHOOTS WITH LIQUIDITY RATIO OF 60.6 PERCENT AGAINST THE REQUIRED MINIMUM OF 20 PERCENT?
We have a liquid balance sheet with Sh500 billion of cash, cash equivalents and government securities.
This reflects the agility to redeploy funding seamlessly as the economies recover from the adverse impact of the Covid-19 multi-crisis.
We believe lessons have been learnt about global supply chains in manufacturing and many will be seeking to set up regional and national supply chains to avoid disruptions. We also see opportunity to tap into the Continental Free Trade Area and the growing pace at which regional businesses are doing cross-border transactions.
EQUITY WAS THE MOST PROFITABLE BANK LAST YEAR AND HAS ALSO LED IN Q1 2021. WHERE ARE THE DIVIDENDS?
I know shareholders can't be happy with me not paying dividends for two years and so we want to avoid this when shocks such as Covid-19 come.
The board has now enacted a policy. It has made a commitment of paying from 30 to 50 percent of all the profit after tax going forward and institutionalise that.
It has been enacted as a policy that if certain major events like Coivd-19 happen in future, we pay the dividends then go back to shareholders for a rights issue.
palushula@ke.nationmedia.com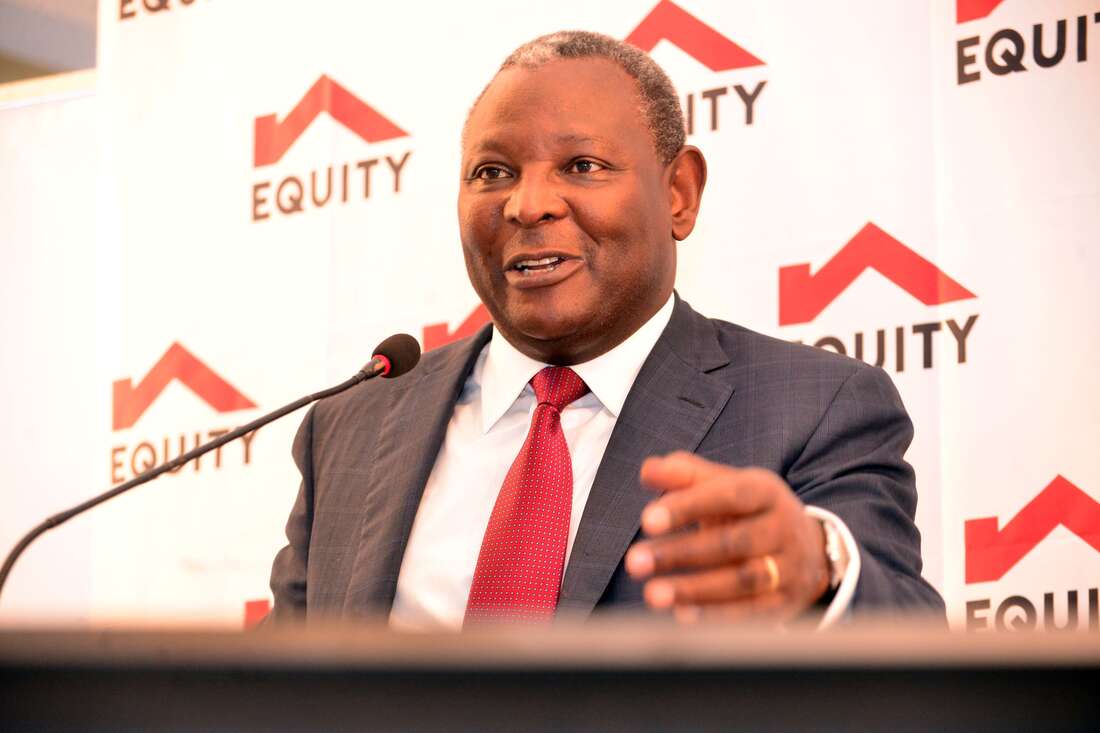 The Business Daily spoke to its CEO James Mwangi about the place of subsidiaries in growth.
www.businessdailyafrica.com