Joined

Jun 14, 2011
Messages

44,922
Likes

12,873
Points

280
Three property funds worth $11.9 billion frozen on withdraws
Carney warns of economic slowdown as he moves to bolster banks
Pillars of the U.K. economy are starting to shudder as the cost of Brexit hits home.
Three asset managers froze withdrawals from real-estate funds following a flurry of redemptions and the pound plunged to a 31-year low less than two weeks since the nation backed quitting the European Union. Rushing to fill the political vacuum, Bank of England Governor Mark Carney signaled easier monetary policy and urged prudence on households.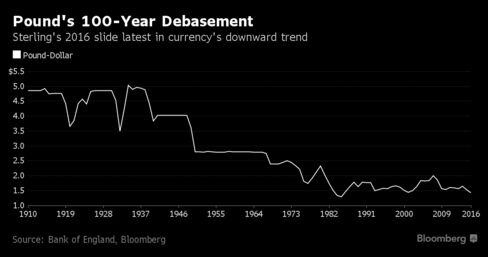 With the real estate tremors echoing the last financial crisis, the mounting fear is failure to control the aftershocks from the Brexit vote will propel the economy into recession.
"I am expecting quite a sharp reduction in investment spending, a sharp hit to the commercial property market, probably a check to consumer spending, all of which could push us towards zero or below growth," John Gieve, a former deputy governor of the Bank of England and veteran of the last crisis, told Bloomberg Television.
Reacting to a rush by investors to redeem their money, M&G Investments and Aviva Investors followed Standard Life Investments in suspending trading in commercial-property funds that together total 9.1 billion pounds ($11.9 billion). Industry analysts have warned that London office values could fall by as much as 20 percent within three years of the U.K. leaving the EU.
'Fire Sale' Risk
A risk for the economy is that the property funds are forced to sell assets at "fire sale rates," hitting the commercial sector, said Robin Henry, a partner in the London law firm Collyer Bristow.
Aviva bemoaned a "lack of immediate liquidity," while M&G noted redemptions "have risen markedly because of high levels of uncertainty." Regulators discussed the Brexit fallout with asset managers on Tuesday in previously scheduled meetings.
During the last financial crisis, real estate funds were forced to suspend operations after withdrawals surged, contributing to a property-market slump that saw values drop more than 40 percent from their peak in the U.K.
"There are enough partial echoes here of the run on U.S. money funds in 2008 to provoke a sharp risk-off flight to safety," said Krishna Guha, vice chairman of Evercore ISI in Washington. "But we underline that this appears order of magnitude less worrying than the 2008 money fund episode, being much smaller and much more localized in its effect."
Gilts Gain
Underscoring the aversion to risk, the yield on the U.K.'s 10-year gilt yield slid six basis points to 0.77 percent, while the first auction of five-year gilts since the referendum recorded a record low yield of 0.377 percent.
The pound
slumped
to its weakest level since 1985 and slipped below $1.28 in Asian trading Wednesday, breaching the lows seen in the immediate aftermath of the June 23 referendum. Goldman Sachs Group Inc. analysts said they predicted sterling to drop to $1.20 over the next three months.
The FTSE 100 Index rose 0.4 percent on Tuesday, led by companies whose profits will be bolstered by the weaker currency. It's still up 3.3 percent since June 23.
The domestic economy is not looking so promising. Pessimism among executives about the outlook almost doubled since the vote, according to an index published Tuesday by YouGov Plc and the Centre for Economics and Business Research on Tuesday. Reports earlier in the week already showed U.K. construction unexpectedly shrinking at the fastest pace since 2009 in June, while growth in services output slowed.
Carney Warning
In his third public appearance in 12 days, Carney warned of a "material slowing of the economy" and a "tougher economic outlook." The Financial Policy Committee he chairs cut its main capital buffer to zero from 0.5 percent of risk-weighted assets.
The FPC said that would raise the capacity for lending to companies and households by as much as 150 billion pounds ($197 billion). Carney also spoke of "well-aimed" monetary policy, boosting speculation the central bank will soon provide fresh stimulus in the form of interest rate cuts and perhaps more bond-buying.
Carney is serving as the main economic firefighter as politicians in the ruling Conservative Party focus on the jostle to succeed Prime Minister David Cameron, another casualty of Brexit. Home Secretary Theresa May Energy Minister Andrea Leadsom were the top finishers in the first round of party voting on Tuesday; Former Defense Secretary Liam Fox was eliminated.
"Everyone needs to brace for impact as there is now a risk of a confidence shock and recession," said Lena Komileva, chief economist at G Plus Economics Ltd in London.
Brexit Erodes U.K. Economic Pillars, Property Investors Flee